Founded in 1979, Foundation has Raised More than $10 million for Student Scholarships and Support
The mission of the Oakland Community College Foundation is to support student success by offering scholarships and emergency funds to help them achieve their academic goals. And after 40 years, the Foundation has done plenty of that, raising over $10 million thanks to thousands of supportive community members, alumni, corporations, faculty and staff since its founding in 1979.
"The amount of support we have received from the OCC family and community during our first 40 years has been amazing, and from humble beginnings, it has had a positive impact on the lives of thousands of students," said Peter Provenzano, OCC chancellor.
For the Fall 2019 term, the Foundation awarded more than 200 scholarships, totaling close to $225,000.
Largest Matching Gift Campaign Underway for Student Success Fund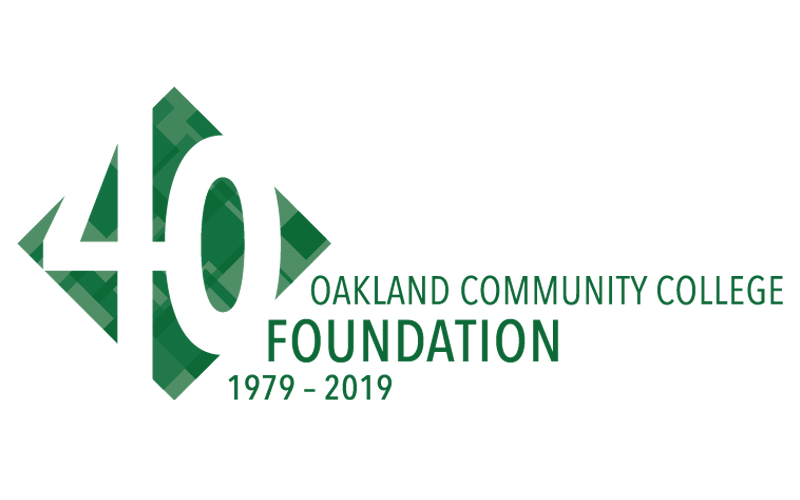 To celebrate its 40th anniversary, the Foundation Board of Directors has launched a Matching Gift Challenge to provide a one-to-one match for donations given to the Student Success Fund (up to $40,000), the largest matching gift campaign in the Foundation's history. The money raised during the campaign, which runs through early January, will endow the Student Success Fund, which provides a rapid response for students in financial crisis. The Foundation will also award 40 ($500) scholarships to students in addition to the current 200 scholarships available for the Winter 2020 semester.
"The Student Success fund provides immediate help for enrolled students facing a financial emergency beyond their control, once all other avenues are exhausted," said Daniel Jenuwine, executive director of the OCC Foundation and interim vice chancellor of marketing and communications. "Many students struggle to stay in school when a crisis strikes that affects their transportation, housing or even access to food. With the right help at the right time, these students can complete their classes and stay on the track to success."
The OCC Foundation is a 501(c)(3) nonprofit corporation. Gifts to the Foundation are tax-deductible to the fullest extent of federal and state law. The Foundation has a variety of giving options for interested donors, such as sustaining gifts, estate gifts, tributes and memorials, and named annual and endowed scholarships and funds, to name a few. For more information about the OCC Foundation or to donate, visit oaklandcc.edu/foundation or call 248.341.2137.
About OCC
With multi campus system in Oakland County, OCC is Michigan's number one transfer institution, offering nearly 100 excellent degrees and certificates. The College empowers academic and developmental experiences, allowing students to reach their full potential and enhance the communities they serve. More than a million students have enrolled in the College since it opened in 1965. Learn more at oaklandcc.edu.
###
Media Contact: Marketing & Communications | 248.341.2020 | contactus@oaklandcc.edu