When Kate Setzke decided to return to college after her divorce to become a diagnostic medical sonographer, it was a struggle. The demands of classes and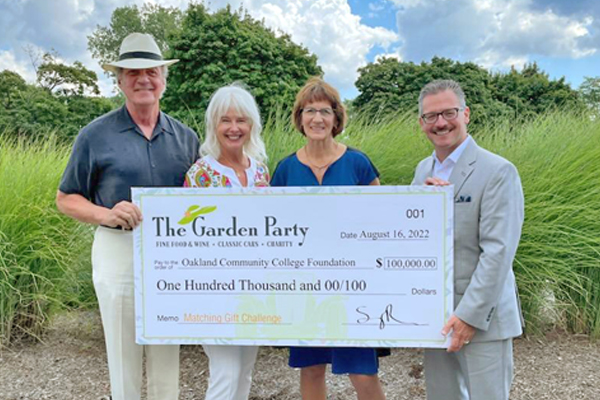 hands-on clinical training, along with caring for her young child, made it impossible for her to continue working.
With the help of The Garden Party (TGP) Vocational Education Scholarship, the OCC student was able to pursue her dream job and recently graduated summa cum laude with an Associate of Applied Science in diagnostic medical sonography. She now works as a sonographer at Beaumont Hospital in Taylor and Dearborn.
"Being able to have the financial support from The Garden Party scholarship has been a huge help," she said. "My five-year goal is to complete my bachelor's degree, while continuing to work, and then look for a position teaching a sonography lab class. I would love to give back and work with the next generation of sonographers."
To help students like Setzke, this year the Oakland Community College Foundation raised more than $217,000 through The Garden Party Matching Gift Challenge, bringing the cumulative support for this effort to nearly $1.2 million since 2009. The Garden Party Foundation committed $100,000 as a dollar-for-dollar challenge match and sponsors and donors contributed $117,000 in response.
The Garden Party, one of the region's premier fundraising events, returns Sunday, June 11, 2023.
Proceeds from the event provide professional trade scholarships to students with financial need to ensure they attain professional skills and empower them to achieve self-sufficiency. The OCC Foundation has awarded more than 850 TGP scholarships, including 200 in the last academic year.
"Our sponsors and donors have stayed loyal to The Garden Party, even in the years when we have not been able to hold the event," OCC Vice Chancellor for Advancement Daniel Jenuwine said. "To me, that speaks to the importance they place on OCC's role in preparing a skilled workforce for our region."
This year, Kelly Services ranked as the top sponsor with its Jeroboam-level contribution. The seven-member OCC Board of Trustees were notable among the Magnum-level sponsors, which also included Nicholas Abid, DO, MBA;the Celani Family Foundation; Huntington Bank; Integrated Design Solutions; Ryder; the Tyranski and Totonchi Group; UHY and Wilson Rode.
"Each contribution from our generous donors and sponsors to The Garden Party is greatly appreciated," said Elizabeth Ross, co-founder with her husband Syd of The Garden Party. "Syd and I love seeing how so many talented students are able to reach their educational goals through these vocational scholarships."
The Garden Party scholarships benefit students in OCC's professional trades programs including Computer Information Systems; Engineering, Manufacturing & Industrial Technology programs; Nursing and other Health Sciences programs; Culinary Studies; and First-Responder programs and academies. Current students can apply online through  Scholarship Universe.
About OCC
Offering nearly 100 degrees and certificates, OCC is Michigan's largest multi-campus community college and one of the top transfer institutions in the state. The College provides academic, career training and enriching experiences, designed to empower students to reach their potential and enhance our community. More than 1 million students have enrolled in the College since it opened in 1965. A seven-person Board of Trustees governs OCC. Board members are elected on a non-partisan, at-large basis, serve as volunteers and are not paid. Mission statement: OCC is committed to empowering our students to succeed and advancing our community. Learn more at oaklandcc.edu. 
 
Media Contact: Marketing & Communications | 248.341.2020 | contactus@oaklandcc.edu