Mosher played key role in establishing Oakland Community College in the early 1960s
George R. Mosher, Jr., OCC's Charter Board Chair who was dubbed the "Father of OCC" for the central role he played in establishing Oakland Community College in 1964, recently passed away at the age of 98.
In the early 1960s, Mosher and his late wife, Doris, became involved in the effort to establish Oakland Community College. He was elected chair of the OCC Charter Board of Trustees in 1964, a position he occupied until 1970. Mosher was reelected in 1966 and 1972, resigning in 1976 to concentrate on his career as an attorney.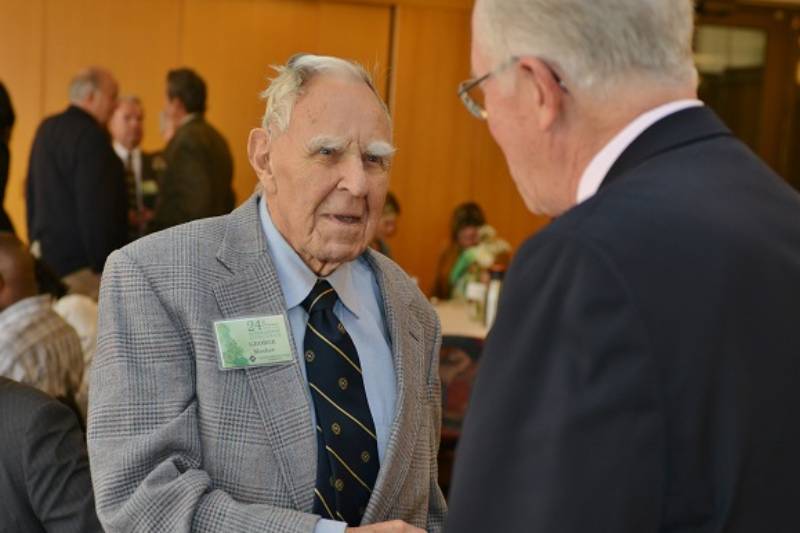 In recognition of Mosher's many contributions to the College, the Board named the Auburn Hills Campus Library in his honor in 1977.
"George was a visionary and set a goal of creating, in his words, 'the best community college'. He was a driving force for OCC to become what we are today," said OCC Chancellor Peter Provenzano, Jr.
"The first board meetings were actually held in the Moshers' living room. That just speaks to their dedication and can-do attitude. The Moshers' legacy lives on in the students and community members who have benefited from the College."
The Charter Board successfully negotiated the purchase of three campus sites in Oakland County within a year. In fall 1965, OCC opened its doors to an enrollment of 3,850 students – a national record for newly-established community colleges at the time.
Although Mosher left the OCC Board of Trustees in 1976, he remained involved with the College's progress, including leading independent citizens' committees in 2002 and 2010 that successfully advocated for millages critical to OCC's future.
In 2000, the Moshers established the George & Doris Mosher Endowed Scholarship, now among the OCC Foundation's largest endowments. The scholarship helps students in financial need to cover tuition and other educational expenses.
Mosher was a graduate from the Columbia Law School and eventually moved to Birmingham, Mich. to join the legal staff at General Motors. After retiring from GM, he took a position with the law firm Brooks Kushman in Southfield, where he continued to work into his nineties.
To view a tribute to George R. Mosher, Jr., please visit Tribute to George Mosher, Jr.
About OCC
With multi campus system in Oakland County, OCC is Michigan's number one transfer institution, offering nearly 100 excellent degrees and certificates. The College empowers academic and developmental experiences, allowing students to reach their full potential and enhance the communities they serve. More than a million students have enrolled in the College since it opened in 1965. Learn more at oaklandcc.edu.
###
Media Contact: OCC Marketing & Communications | 248.341.2020 | contactus@oaklandcc.edu