Pediatrician shares how her early concerns about lead in Flint's water supply uncovered one of the State's largest public health issues
An inspiring, first-hand story of how a Flint doctor was at the forefront of discovery that children in Flint, Mich. were exposed to lead in their tap water will be shared at a free event for community, students and employees of Oakland Community College.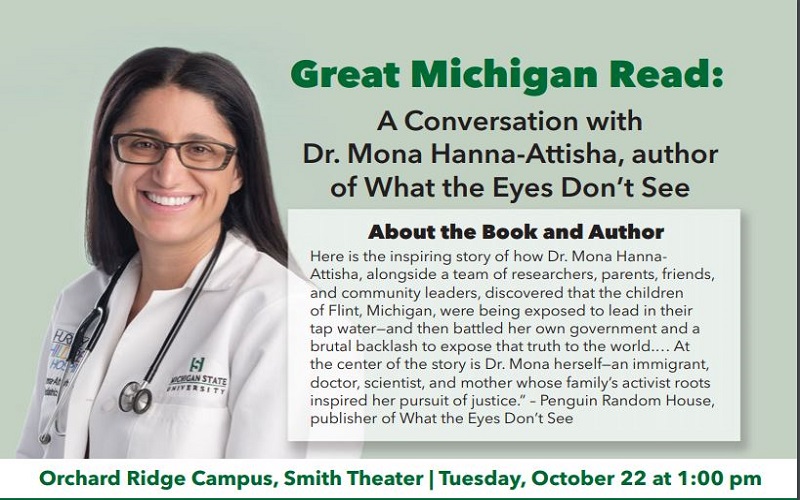 On Tuesday, Oct. 22, Dr. Mona Hanna-Attisha, author of the book "What the Eyes Don't See," will discuss how her efforts led to the discovery that Flint residents were being exposed to lead in their drinking water and her battle with government officials to expose the truth about the Flint Water Crisis.
Her book is part of the Great Michigan Read Program, presented by Michigan Humanities.
"Dr. Mona Hanna-Attisha's willingness to fight for children and tirelessly advocate for change in and beyond Michigan will have readers cheering as she follows the science and her young patients' experiences to uncover one of the state's worst public health catastrophes," says Shelly Hendrick Kasprzycki, Michigan Humanities president and CEO.
The conversation with Hanna-Attisha event will be held at 1 p.m. in the Smith Theater on OCC's Orchard Ridge campus, 27055 Orchard Lake Rd., Farmington Hills, MI 48334. For more information and to register for the free event.
The Great Michigan Read aims to connect Michigan residents by deepening readers' understanding of our state, our society, and our humanity. A statewide panel of teachers, librarians, community leaders and book lovers selects the Great Michigan Read every two years.
The 2019-20 Great Michigan Read is presented by Michigan Humanities and supported by national, statewide, and local partners, including the National Endowment for the Humanities and The Meijer Foundation.
About OCC
With multi campus system in Oakland County, OCC is Michigan's number one transfer institution, offering nearly 100 excellent degrees and certificates. The College empowers academic and developmental experiences, allowing students to reach their full potential and enhance the communities they serve. More than a million students have enrolled in the College since it opened in 1965. Learn more at oaklandcc.edu.
###
Media Contact: Marketing & Communications | 248.341.2020 | contactus@oaklandcc.edu