The Michigan Chronicle has recognized Dean of Student Services Jahquan Hawkins as an African American man who inspires others through his vision, leadership, exceptional achievements and participation in community service.
As a Michigan Chronicle 2021 Men of Excellence Honoree, Hawkins joins an elite group of men of recognized champions of economic empowerment and diversity, backbones of business, religious and educational organizations, and those who serve as driving forces in politics and service.
Hawkins will be honored at an awards and induction ceremony on Thursday, Jan. 27 at the International Marketplace in Greektown, Detroit.
"I am very excited to be a part of this particular cohort," said Hawkins. "I read the list of honorees, many of whom I know and respect, and to think I'm looked at in the same light is pretty cool."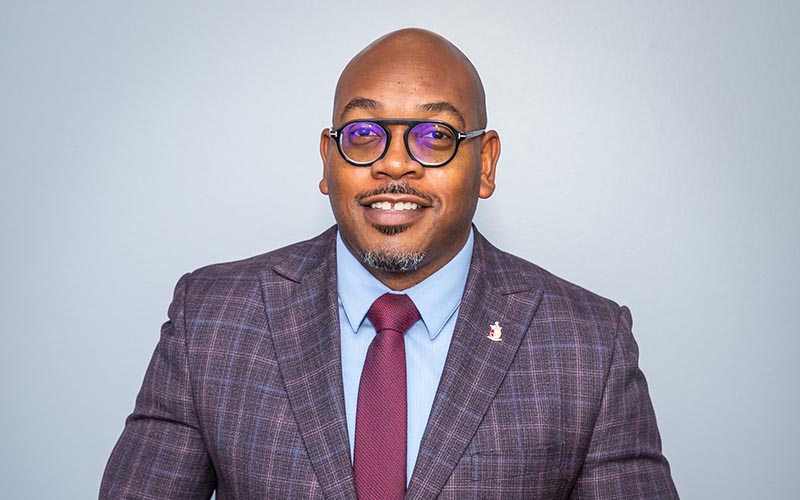 For the past 20 years, Hawkins has been a member of Kappa Alpha Psi, a historically African American fraternity. As a Detroit Alumni Chapter member, he is involved in a mentoring program for young boys in middle and high school. He also serves in a regional position developing content for the C. Rodger Wilson Leadership Conference, which helps undergraduates prepare for the workforce and graduates refine their skills.
At OCC, Hawkins was one of the original faculty members for Man Up, a program designed to help African American youth struggling with the transition from high school to college and to keep them on track to succeed. Hawkins taught the College Success Skills class within the program.
"We've had more than 300 youths go through the program over a 10-year span," he shared proudly. "Each participant earned two college credits through Man Up and many had successful collegiate experiences. I'm very proud of that."
The Men of Excellence Award is the second time Hawkins has been recognized as a leader by the Michigan Chronicle. In 2018, he received the 40 under 40 honor. The year before his wife, Southfield City Clerk Sherikia Hawkins, received the Women of Excellence Award. She also was previously honored with the 40 and 40 award.
Hawkins began working at OCC in 2010, as a student life coordinator at the Orchard Ridge campus moving to an administrator job within four years, serving as interim director of student services in 2014. Eight months later, he moved to the Southfield campus to work as dean of campus affairs and, in 2017, became the dean of student services at the Auburn Hills campus. In addition, he currently serves as one of OCC's Title IX Investigators.
"I was in my mid '30s and someone thought I was prepared to be dean and that speaks volumes about how I am or was perceived by the College," he said. "I'm grateful for that and hope through my services as a dean I have made them proud."
Hawkins has authored and published two books: "Finding My Way," a practical guide to college success; and "Donovan's College Adventure," a children's book that introduces youngsters to higher education and named after Hawkin's son, who was 5 years old at the time.
###
About OCC
Offering nearly 100 degrees and certificates, OCC is Michigan's largest multi-campus community college and No. 1 transfer institution in the state. The College provides academic, career training and enriching experiences, designed to empower students to reach their potential and enhance our community. More than 1 million students have enrolled in the College since it opened in 1965. A seven-person Board of Trustees governs OCC. Board members are elected on a non-partisan, at-large basis, serve as volunteers and are not paid. Mission statement: OCC is committed to empowering our students to succeed and advancing our community. Learn more at oaklandcc.edu.
Media Contact: Marketing & Communications | 248.341.2020 | contactus@oaklandcc.edu