Earning Certificate or Associate Degree Prepares Students for High-Paying Jobs in In-Demand Field
OCC is launching a Heavy Equipment Repair program in winter 2022 in partnership with AIS Construction Equipment that enables students to earn a certificate or associate degree to qualify for high-paying jobs in this in-demand field.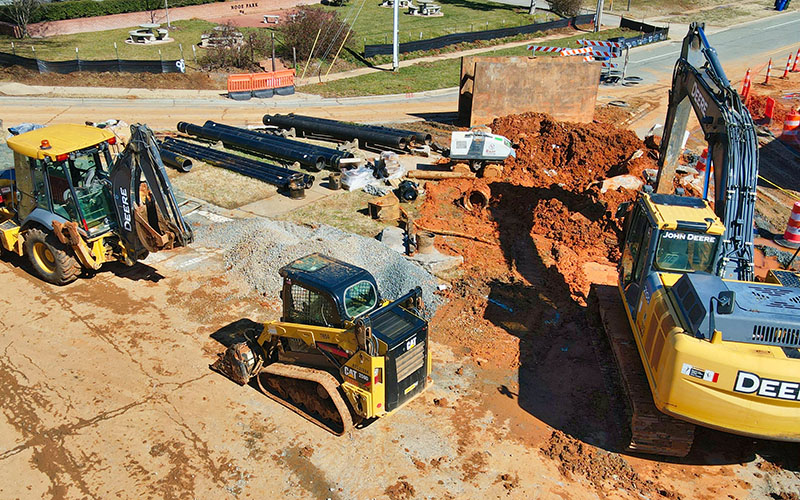 Students who complete the heavy equipment program will be qualified for a variety of jobs such as heavy equipment repair mechanic; industrial machine mechanic; bus and truck mechanic; or farm equipment mechanic. The annual average salary for a heavy equipment repair technician in southeast Michigan is more than $61,000.
A heavy equipment repair technician is responsible for the repair on a variety of heavy-duty construction and road equipment. The certificate and associate degree courses provide students with the knowledge needed to be a repair technician and focuses on the repair of all systems used in heavy equipment, including diesel engines, fuel systems, powertrain, electronics and hydraulics.
"The heavy equipment industry is growing at a pace that far exceeds the supply of qualified technicians, and Oakland Community College, along with AIS Construction Equipment, are now working together to fill that need. " said Claude Townsend, OCC faculty and program coordinator. "The future of heavy equipment is dependent on private industry and educators working together."
Students need to complete 43 credit hours to earn the certificate and 63 credit hours for the associate degree. The program's heavy equipment courses will be taught at the AIS Construction location in New Hudson and the automotive repair and welding courses that are part of the curriculum will be taught on OCC's Auburn Hills campus.
For more information on the Heavy Equipment Technician program, visit http://catalog.oaklandcc.edu/programs/heavy-equipment-repair/ or contact program coordinator Claude Townsend at cftownse@oaklandcc.edu.
###
About OCC
Offering nearly 100 degrees and certificates, OCC is Michigan's largest multi-campus community college and No. 1 transfer institution in the state. The College provides academic, career training and enriching experiences, designed to empower students to reach their potential and enhance our community. More than 1 million students have enrolled in the College since it opened in 1965. A seven-person Board of Trustees governs OCC. Board members are elected on a non-partisan, at-large basis, serve as volunteers and are not paid. Mission statement: OCC is committed to empowering our students to succeed and advancing our community. Learn more at oaklandcc.edu.
Media Contact: Marketing & Communications | 248.341.2020 | contactus@oaklandcc.edu