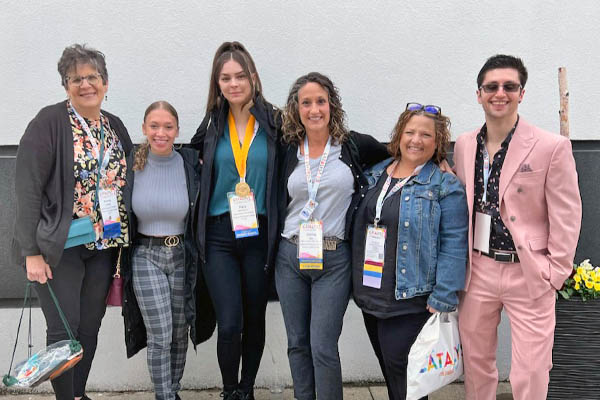 Heidi Renton (second from right) with Brenda Lowery, Ambria Ellis, Kara Jenneker, Johnna Balk and Tyler McDaniel at the PTK Catalyst Annual Convention in Columbus.
Award recognizes college advisors who make significant contributions in advocacy, growth and development of students and student organization
Heidi Renton, OCC student engagement coordinator and Phi Theta Kappa (PTK) honor society advisor, has received the prestigious National Paragon Award for new advisors.
Renton, a resident of Waterford, is a former College bookstore employee who transitioned to her new role as student engagement coordinator. She says after being in an analytic role for many years, her new position has allowed her to hone-in on people skills while being a positive part of OCC student's experience.

New Role Brings New Skills

The award comes as no surprise to those who know Renton and how she masters her role. This includes Justin Harnack, OCC student and president of PTK's Alpha Omicron Kappa chapter who nominated her, along with Renton's supervisor Dean of Student Services Jahquan Hawkins.
Harnack explains Renton became OCC's PTK chapter advisor in 2022 and continues to encourage and present numerous opportunities to chapter members. The esteemed award recognizes student advisors who make significant contributions to the growth of the individual members, serve as the chapter's advocate on campus, and encourage the chapter to be involved on the local, regional and/or international levels of the organization.
"This past year, I served as a Michigan PTK Regional Officer, which comes with a large time commitment. Heidi mentored me and provided opportunities and resources to develop my own skills," said Harnack. "She always supported me in both roles as regional officer and chapter president. Sometimes, a little support is all someone needs to be successful."
Renton said being nominated by a respected colleague and an honors student, and ultimately winning the award is humbling, but it reaffirms that that she is making an impact.
"We know that students who are connected and engaged with their college, and feel like they belong, are far more likely to reach their goal and do better in their classes. I'm just thrilled I get to be part of that effort," said Renton. "I'm excited to be part of OCC's PTK team and can't wait to expand our reach in the next academic year!"
Renton received her award at the 2023 PTK Catalyst Annual Convention in Columbus, Ohio on April 20-22. Catalyst is PTK's premiere annual event that brings together members and advisors for professional development. It includes immersive opportunities for personal and professional development, college transfer guidance, and speakers who inspire. This year's keynote speakers include Geena Davis, Academy Award-Winning Actor, Founder & Chair, Geena Davis Institute on Gender in Media and former 8-year NFL veteran and college All-American Linebacker Manti Te'O.
About PTK
PTK is the oldest, largest and most prestigious international honor society recognizing students pursuing two-year degrees. It provides opportunities for individual growth and development through participation in honors, leadership, service, and fellowship programming. 3.5 million members in the United States and 10 sovereign nations.
About OCC
Oakland Community College offers nearly 100 degrees and certificates programs with the resources students need to be successful and advance our community. As a top transfer institution, OCC offers one of the state's most affordable tuition rates and flexibility in scheduling with face-to-face and online options. The College is nationally recognized for its high-demand career training with expert faculty in their fields. More than 1 million students have enrolled in the College since it opened in 1965. Learn more at oaklandcc.edu.  
 ###
Media Contact: Marketing & Communications |248.341.2020|  contactus@oaklandcc.edu