Donation is largest in OCC's history
Thanks to the generosity of two sisters, Oakland Community College students will soon have additional scholarship opportunities to support their educational goals and pursue their dreams for the future.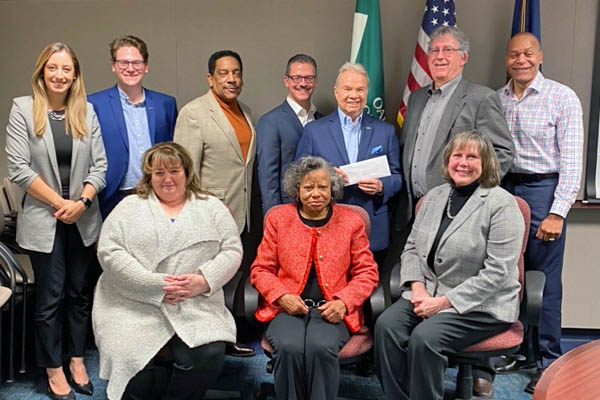 Members of the OCC Foundation Board and OCC Financial Services staff receive check for the Margaret A. Hinkle and Joan M. Hinkle College Aid Fund.
The OCC Foundation received a bequest of approximately $1.1 million from the trusts of late sisters Joan and Margaret Hinkle. The bequest will establish the Margaret A. Hinkle and Joan M. Hinkle College Aid Fund, an endowment that is expected to produce approximately $55,000 annually in scholarships a year for OCC students, in perpetuity. The gift is the largest received by Oakland Community College.
Joan, a public-school teacher for more than 40 years, and her sister Margaret, who was an office secretary, were inspired by their Catholic faith and the generosity of family members who made financial contributions to support local education. The two never married. They lived in West Bloomfield.
According to their friend and advisor, Richard Gillikin, CPA, the two sisters were career women beginning in the 1940s. They earned their wealth by working hard all their lives. They loved education and Joan was said to have at least 18 children each year to care for in her classroom.
"Joan and Margaret appreciated the value of what community colleges provide. When donors meet students and read letters from those who have been supported by their scholarships, they see how much their support helps," he said. "OCC was one of their top choices to make that difference."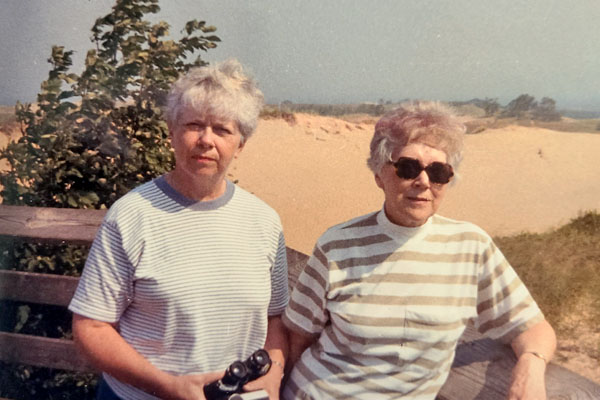 The Hinkle sisters
"We are humbled by this incredible legacy gift made by Joan and Margaret," says OCC Chancellor Peter Provenzano. "We change lives here and this gift is a game changer. Joan and Margaret's foresight and wisdom will make a significant and long-lasting impact to remove barriers and create an educational path to success for individuals in our community."
In accepting the gift alongside OCC Foundation Board Chair Richard Berkfield, Provenzano shared that he was a first-generation college student who attended on a scholarship. "That scholarship changed my life," he said. "Scholarships like this will continue to change the lives of others."
Berkfield noted the gift will have an incredible impact, representing a 10 percent increase in annual scholarship dollars available to students.
Eligibility requirements and other scholarship opportunities at OCC
Scholarships established through the endowment will be awarded beginning in the fall of 2024. Eligibility criteria include demonstrated financial need. Students must be enrolled full or part-time at OCC with a minimum 2.5 grade point average and eight credit minimum.
Other OCC scholarship opportunities have been made possible thanks to the generosity of many individuals who have provided funding through a planned gift. In the 2022 calendar year, the OCC Foundation awarded 779 students with 894 scholarships, totaling $475,000 in support.
For further information visit planned giving at Oakland Community College.
About OCC 
Oakland Community College offers nearly 100 degrees and certificates programs with the resources students need to be successful and advance our community. As a top transfer institution, OCC offers one of the state's most affordable tuition rates and flexibility in scheduling with face-to-face and online options. The College is nationally recognized for its high-demand career training with expert faculty in their fields. More than 1 million students have enrolled in the College since it opened in 1965. Learn more at  oaklandcc.edu.  
###
Media Contact: OCC Marketing & Communications | 248.341.2020 | contactus@oaklandcc.edu