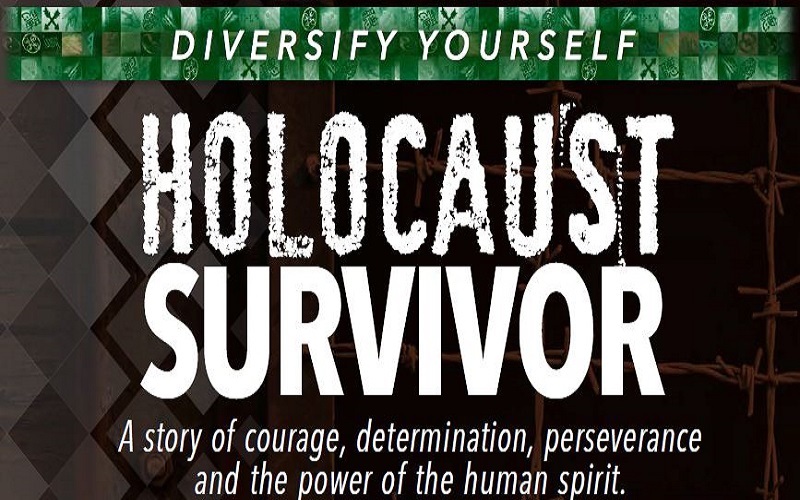 A simple potato was the stuff of "royalty" or the "very rich" to a young Jewish girl encamped in a Siberian forest where the bitter cold made breathing feel like "swallowing sharp objects."
Irene Miller, author of "Into No Man's Land: A Historical Memoir" and featured in the PBS documentary "Irene: Child of the Holocaust," will share her Holocaust survival story Tuesday, Nov. 12, Noon – 1 p.m., Room D201 on OCC's Royal Oak campus. The free event is open to the public and sponsored by OCC's college-wide Committee for Diversity and Inclusion (CCDI), the OCC Royal Oak / Southfield Diversity Committee and Hillel of Metro Detroit.
The United States Holocaust Memorial Museum Registry of Holocaust Survivors currently holds the names of more than 195,000 survivors and family members. While the list grows daily, sadly so does the number of registry deaths over the past 15 years.
"We're rapidly approaching the point where Holocaust stories will be retold through the adult children of survivors, rather than the survivors themselves," said Bill Konkolesky, CCDI chair, Royal Oak and Southfield campuses. "It's important we give students and the community at large a chance to learn about this grave moment in history directly from the people who lived it."
Konkolesky says many young adults see World War II and the Holocaust as long ago and far away, rather than a lens to view current events. "The world just last year observed the 80th anniversary of Kristallnacht, or the day Nazis burned down hundreds of synagogues, vandalized and looted Jewish businesses, and sent Jewish men to concentration camps. Survivors like Irene Miller give face and voice to the horrors of World War II. We need to create a forum for students to hear and learn from them directly before it's too late."
Ross Herner, program associate for Hillel of Metro Detroit, says he appreciates the chance to work with OCC to host marquee programs on the College's campuses. "The Irene Miller presentation will be a meaningful event, and we encourage people to attend. Her message is one of tolerance and diversity. It's important to spread awareness and increase visibility about the historical significance of survivor stories."
An important part of her story is that the tragic beginnings of Miller's life failed to derail her joy, quest for higher education, and considerable contributions to society. She's lived in a number of countries, traveled extensively, and speaks six languages. Miller is a retired healthcare executive who has served on a Washington, D.C. advisory committee for issues related to drug addiction in women and children. She attended Teachers College in Israel, and went on to earn her Bachelor of Science in Psychology and Master of Science in Social Psychology from the University of Cincinnati, and an MBA in Hospital Management from Xavier University. She lives in West Bloomfield
Miller has shared her courageous story with thousands of people worldwide. Her visit to OCC is one of the many events hosted by the College Committee for Diversity and Inclusion. "We're proud to showcase unique perspectives and celebrate diversity across our campuses," said Konkolesky. "It's important we offer students opportunities to experience other cultures and explore the common elements we all share as human beings."
About OCC
With multi campus system in Oakland County, OCC is Michigan's number one transfer institution, offering nearly 100 excellent degrees and certificates. The College empowers academic and developmental experiences, allowing students to reach their full potential and enhance the communities they serve. More than a million students have enrolled in the College since it opened in 1965. Learn more at oaklandcc.edu or CCDI at https://www.oaklandcc.edu/diversity/mission.aspx
About Hillel of Metro Detroit
Hillel of Metro Detroit is a dynamic organization for Jewish college students and young adults (18-29) who live in the metro Detroit area. HMD provides a myriad of programs so everyone can find a place where he/she belongs. HMD offers opportunities to connect with the Jewish community and other Jewish people through interactive programs, both on the six campuses we serve and in the community. Contact hillel@oakland.edu or learn more at https://www.hillel-detroit.org/
###
Media Contact: Marketing & Communications | 248.341.2020 | contactus@oaklandcc.edu