OCC automotive design student, Bailey McCaffrey, considers herself to be a technical person who enjoys challenges. Competition, showcasing top advantages and hard work have led her to numerous championship titles, dually applied as she works toward a career in automotive design engineering.
McCaffrey, of Commerce Township, says her mom grew up with horses and she followed suit. Her free time is spent in the barn training for competitions. One of her horses really captured her heart.
"In 2016, I got my horse Burnie. He is the reason I fell in love with showing," McCaffrey said. "I think he enjoys being in the show pen as much as I do. We have so much fun together when we are competing."
Their partnership has resulted in quite a successful ride as world champions in various horse competitions. This includes being selected top two in the nation and qualifying for the 2017-2019 American Paint Horse World Championship Show in Fort Worth, Texas. She and Burnie qualified three years ago for the world championship show, but McCaffrey decided against competing due to the 30-hour trip to Texas.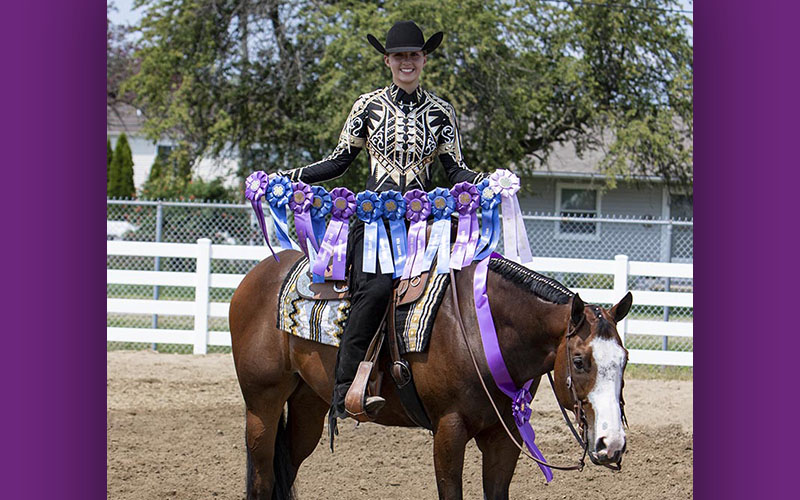 In 2020, she decided to compete, and they were crowned world champions in showmanship and horsemanship. Showmanship is an event found at many horse shows. The exhibitor is judged on how well he or she exhibits the animal to its best advantage, with additional scoring for the grooming and presentation of both horse and handler.
McCaffrey was also awarded reserve world champion in equitation, a rider's ability to ride correctly and with effective aids.
Burnie and McCaffrey's success continued in 2021 winning again as world champions in showmanship and reserve world champions in the Western Pleasure and Horsemanship competition also in Fort Worth, Texas. This is in addition to numerous championships won at a local level.
Qualities of winning horsemanship and showmanship apply to successful design engineer.
McCaffrey's future goals include combining her love of horses and auto design where she can combine requisite qualities of good visual and spatial awareness, attention to detail, problem solving, and a creative flair to improve performance.
With her all-consuming sport, she chose Oakland Community College so that she could commute and pursue an education in automotive engineering design while having convenient access to ride and compete in horse competitions. She appreciates the ability to have one-on-one time with professors and likes the smaller class sizes.
"Horses have been my entire life and that won't change, but it is hard to make a good living off of just training horses," she said. "That is why I will have a career in automotive design," McCaffrey said. "After graduating I plan to get a job at Chrysler as a design engineer. As a side job and hobby I would love to have a business training horses."
###
About OCC
Offering nearly 100 degrees and certificates, OCC is Michigan's largest multi-campus community college and No. 1 transfer institution in the state. The College provides academic, career training and enriching experiences, designed to empower students to reach their potential and enhance our community. More than 1 million students have enrolled in the College since it opened in 1965. A seven-person Board of Trustees governs OCC. Board members are elected on a non-partisan, at-large basis, serve as volunteers and are not paid. Mission statement: OCC is committed to empowering our students to succeed and advancing our community. Learn more at oaklandcc.edu.
Media Contact: Marketing & Communications | 248.341.2020 | contactus@oaklandcc.edu