Oakland Community College students looking to find their voice in politics have a new resource with IGNITE. The new chapter was founded this Winter semester by OCC alumnus Agatha Pinheiro, who is also a fellow for IGNITE, a national, non-partisan organization. The group is dedicated to building a movement of young women (and women identifying individuals) who are ready and eager to become the next generation of political leaders, organizers and policy makers.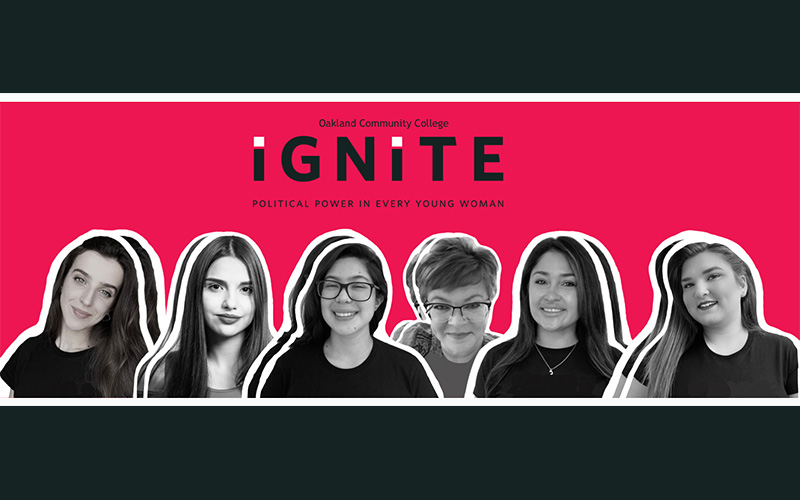 IGNITE launched in 2010 to address the lack of women in elected office by building a pipeline of next generation leaders who are poised to flex their political power. It is currently the largest young women's political organization in the country with college chapters across the country.
OCC Club Advisor and EMIT Administrative Specialist KimberLea Reid said the club is a great way to connect students who want to make a difference in women's equity, voter access and civic engagement.

"I am so proud to be a part of this group. These young women are passionate, engaged and blazing a trail," said Reid.

OCC IGNITE Student President Iryna Olkhovetska said the natural spark of every member is what makes IGNITE unique.

"Each of us brings to this group something unique that allows us to carry the values of something right and bright. The work we have done since the beginning of last semester has already been very interesting and informative. Being a part of IGNITE inspires me to help others and become a better version of myself," she said.

Future events and opportunities planned through the new chapter include voter registration resources, civic education and engagement, connecting with women in political power, as well as professional networking and career development. 

IGNITE is a college-wide student organization based at the Auburn Hills campus. Students interested in learning more about the chapter can send an email to igniteocc@gmail.com. IGNITE chapter information and other OCC organizations and clubs can be found on the College's Student Organization page.
### 
 
About OCC 
Offering nearly 100 degrees and certificates, OCC is Michigan's largest multi-campus community college and No. 1 transfer institution in the state. The College provides academic, career training and enriching experiences, designed to empower students to reach their potential and enhance our community. More than 1 million students have enrolled in the College since it opened in 1965. A seven-person Board of Trustees governs OCC. Board members are elected on a non-partisan, at-large basis, serve as volunteers and are not paid. Mission statement: OCC is committed to empowering our students to succeed and advancing our community. Learn more at oaklandcc.edu. 

Media Contact: Marketing & Communications | 248.341.2020 contactus@oaklandcc.edu