When James Corcoran took Debra Rowe's environmental classes more than 35 years ago, little did he know how much impact OCC's faculty and one course would have on his life passion for charitable work.
Corcoran completed his associate degree in liberal arts at OCC in 1987 and his bachelor's degree from Madonna College in 1989. He returned to OCC in the 1990s to complete several fire officer and leadership training courses through the Oakland Fire Training Institute.
"My associate degree paved the way for advancement in the Southfield Fire Department where I served as a paramedic for 10 years and retired as captain in 1999 after 25 years of service," Corcoran said.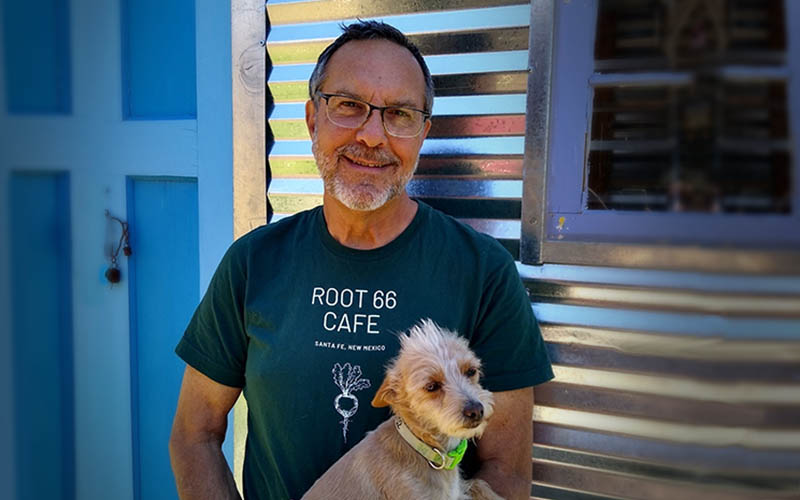 Corcoran with Mexico rescue dog Leo.
He credits the many firefighting classes at OCC as essential to his advancement in rank at the Southfield Fire Department. As he says, "It gave me a leg up on others in the department and made me a better firefighter and officer."
But what sparked his penchant for public service may have started in that early environmental class.
According to Corcoran, his love of volunteering was developed at OCC where Rowe, a sustainable energies and psychology faculty member, mentored him in various areas concerning the environment.
"Dr. Rowe was ahead of her time regarding the environmental crisis we now face and taught her students many ways to mitigate its effects on our planet," he said. "As I became aware of other ways we can help, she was supportive and offered me venues to share that information with the student body of OCC."
It was during that time Corcoran changed the course of his life towards charitable work, including co-founding several non-profit organizations.
The first non-profit he co-founded in 1999 is VegMichigan, the state's largest vegan organization focused on promoting the health, environmental, and ethical benefits of a plant-based diet. The group has hosted several events including VegFest at the Suburban Collection Showplace in Novi and VegMichigan SummerFest at the Southfield Civic Center.
He also co-founded VegFund, an international organization that empowers vegan advocates worldwide through grant funding and effective outreach that inspires people to choose and maintain a vegan lifestyle.
Rowe says Corcoran is a great example of how students can learn about urgent societal challenges such as environmental and human health and weave it into their career and volunteer pathways.
"There are so many interesting stories about OCC students making the world a better place. I appreciate James, his passion, his knowledge and his follow through to help create a better world for us all."
Corcoran, who now lives in Santa Fe, New Mexico, says his volunteer work has been one of compassion, sustainability and healthier people.
"If not for OCC, I likely would not have been exposed to the elements that brought me to my labor of love. For that, I owe a debt of gratitude to OCC. All incoming students should keep an open heart and mind while studying; you never know what doors may open for you."
Do you have a great alumni story to share? Contact marcomm@oaklandcc.edu.
About OCC
Offering nearly 100 degrees and certificates, OCC is Michigan's largest multi-campus community college and No. 1 transfer institution in the state. The College provides academic, career training and enriching experiences, designed to empower students to reach their potential and enhance our community. More than 1 million students have enrolled in the College since it opened in 1965. A seven-person Board of Trustees governs OCC. Board members are elected on a non-partisan, at-large basis, serve as volunteers and are not paid. Mission statement: OCC is committed to empowering our students to succeed and advancing our community. Learn more at oaklandcc.edu.
###
Media Contact: Marketing & Communications | 248.341.2020 | contactus@oaklandcc.edu