Eunice Jeffries Named Director of Government and Community Relations and Dr. Marc Thomas as Dean of Teaching Excellence
Oakland Community College has announced two key leadership additions with Eunice Jeffries joining OCC as director of government and community relations and Dr. Marc Thomas named dean of teaching excellence.
Director of Government and Community Relations, Eunice Jeffries
Jeffries brings more than 25 years of experience in government and community affairs and community service to this position.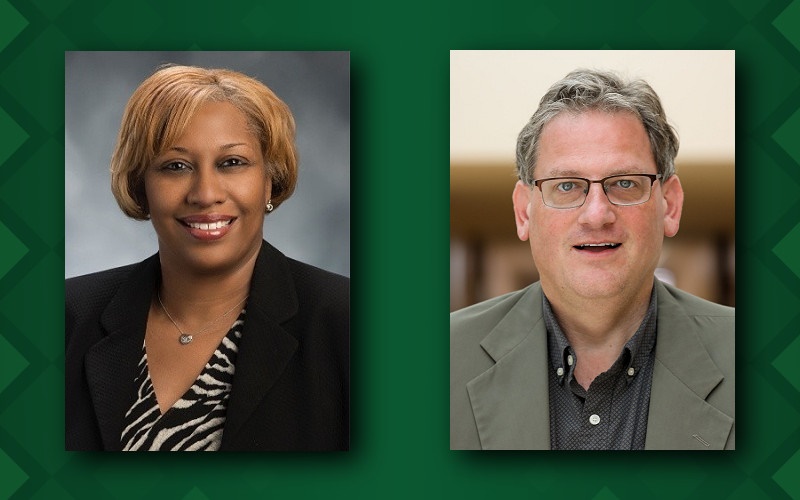 Eunice Jeffries (l) and Dr. Marc Thomas (r)
In her new role, Jeffries will develop and manage government and community relations plans to advance OCC's goals with key external constituencies.
"Ms. Jeffries has both the depth of professional experience and personal qualities that are a perfect fit for this new role at OCC," said Dan Jenuwine, vice chancellor for advancement. "I am confident she will be able to continue to nurture the College's vital relationships with government and community leaders."
Jeffries most recently was regional director of Read to a Child, a national nonprofit charged with fostering a love of reading and improving literacy for elementary school students. She was also a regional community affairs manager at Beaumont Health and served on the staffs of a U.S. Senator, Michigan Governor and Michigan Secretary of State. She is also a member of the Eastern Michigan University Board of Regents, where she serves as chairman. Jeffries is civically involved in the Farmington Hills community where she lives, and was previously the Executive Director of the Farmington/Farmington Hills Foundation for Youth and Families.
Jeffries earned a master of business administration from Northwood University and a bachelor of science degree in accounting and business administration from Fisk University.
Dean of Teaching Excellence, Dr. Mark Thomas
As the new dean of teaching excellence, Thomas will work with faculty and staff to build a renewed infrastructure for continuous improvement in teaching and learning. This work includes the development of an OCC Center for Teaching and Learning to provide enhanced professional development resources for OCC faculty, including identifying and implementing strategies for inclusive teaching and experiential learning.
"Dr. Thomas's experience supporting faculty and students in the development of rich learning experiences, from international education to service learning, will be a great benefit to OCC," said OCC Provost Dr. Jennifer Berne.
Thomas has a varied background in the public and private sectors, including community college faculty member, global programs coordinator and academic dean. Before joining OCC's team, Dr. Thomas served as social science professor for 13 years at Lansing Community College, where his work included leadership as global programs coordinator. His administrative experience includes service as senior campus leader in Colorado, including as dean of general education and health sciences at Morgan Community College and assistant dean of instruction at the Colorado Mountain College. Prior to his work in higher education, he served as an analyst for the Michigan House of Representatives and as researcher for Public Policy Associates, Inc. Thomas previously was an elected Ingham County Commissioner, where his service included two years as CEO of county government as Board Chair.
Thomas earned a Doctorate in Community College Leadership from Ferris State University, along with master's degrees in global education policy from the University of Illinois and public administration from Western Michigan University.
About OCC
Offering nearly 100 degrees and certificates, OCC is Michigan's largest multi-campus community college and No. 1 transfer institution in the state. The College provides academic, career training and enriching experiences, designed to empower students to reach their potential and enhance our community. More than 1 million students have enrolled in the College since it opened in 1965. A seven-person Board of Trustees governs OCC. Board members are elected on a non-partisan, at-large basis, serve as volunteers and are not paid. Mission statement: OCC is committed to empowering our students to succeed and advancing our community. Learn more at oaklandcc.edu.
###
Media Contact: OCC Marketing & Communications | 248.341.2020 | contactus@oaklandcc.edu