OCC shined brightly in the national spotlight as First Lady Dr. Jill Biden joined U.S. Secretary of Education Dr. Miguel Cardona and Congressman Andy Levin (MI-9th district) at the College's Royal Oak campus on Friday, Sept. 24. The visit anchored Cardona's weeklong Return to School Road Trip bus tour, where the Secretary and his team met with students and educators from pre-kindergarten through higher education, across five states in the Midwest.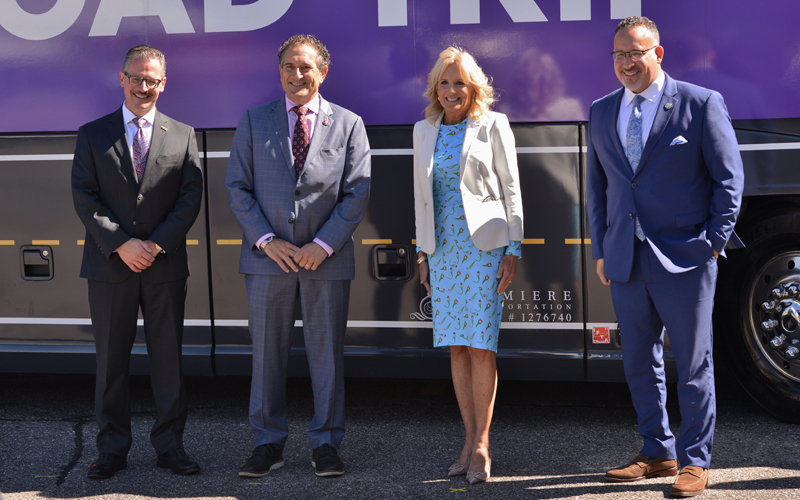 Chancellor Peter Provenzano, U.S. Representative Andy Levin, First Lady Jill Biden and U.S. Secretary of Education Miguel Cardona during "Return to School Road Trip" visit to OCC's Royal Oak Campus Sept. 24.
Greeted by an enthusiastic audience filled with key community leaders, local dignitaries and OCC students, faculty and staff, Cardona and Biden talked about the Biden Administration's Build Back Better Agenda and the importance of returning to in-person learning.
OCC Chancellor Peter Provenzano, Jr. welcomed the distinguished guests and provided the foundation for attendees on the value of community colleges.
"It is our job to provide certainty that our students will achieve their goals and our community thrives. That's the purpose of a community college," Provenzano said.
Biden, who is a community college educator herself, said she was happy to be back to live instruction in schools and emphasized the vital role community colleges play in training the workforce of tomorrow and transforming the lives of everyday people.
"I'm excited and proud to join this Return to School Road Trip, especially since we are closing it out at a community college," Biden said.
"Community colleges are founded on the idea that no matter where we are, no matter where we come from or what struggles we've faced, all of us have the potential to grow and learn, to pursue fulfilling careers, to give back to our communities if only we are given the opportunity," she added.
Secretary Cardona echoed the First Lady's sentiments about the important role community colleges play in providing everyone educational opportunities.
"The experiences I have had visiting community colleges confirm that if we're serious about closing opportunity gaps, and if we're serious about ending inequities in college access, if we want to forge a path to liberty and justice for all then we must make community colleges available for everybody," Cardona said.
Congressman Levin agreed that community colleges are a vital link to higher education success for students from all walks of life.
"During the Great Recession, we created the, No Worker Left Behind Act, where we put 162,000 under and unemployed Michiganders back to school. Our 28 Michigan community colleges led that charge; they trained people for those jobs," Levin said. "We know that community colleges are central to opportunity for people in this country."
The opportunity to host the First Lady and the capstone visit for the U.S. Department of Education's Return to School Road Trip bus tour was announced the week of the event. According to event organizers, it took tremendous effort and dedication, coordinating multiple agencies for a successful visit on an active campus. The College was recognized for its professionalism and welcoming environment alongside students and staff who just returned to in person learning themselves.
Members of the local and national news media covered the event. Provenzano said it was an honor and OCC's time to shine in the national spotlight.
"From the first call from the Administration a week ago to the last wave as the motorcade departed, I'm reminded again how well the people at OCC work together to seize unique opportunities like this White House visit," added Dan Jenuwine, Vice Chancellor for Advancement who, along with Eunice Jeffries, Director, Government and Community Relations, spearheaded the event's success.
"The visit showcased how OCC's care for our students through wrap-around services, coupled with financial help from federal and state programs, empowers our students to succeed and advances our community," he said.
"I was very impressed by how committed she (Biden) seems to be, helping students like me who might not have the same opportunities as others to pursue an immediate four-year university education but instead opt to transfer," said OCC student Justin Hopkins. "I appreciated how much she seemed interested overall in community college students because I feel a lot of times it's easy for that to be overlooked."
Following the speeches, Royal Oak campus students, faculty and staff were invited to a cider and donuts appreciation event hosted by the College's Culinary Studies Institute program in the campus courtyard to celebrate the culmination of an uplifting day with national dignitaries, media and guests.
OCC's Chancellor said he received a lot of questions regarding why the First Lady and Secretary of Education chose to speak at OCC.
"I've been asked, 'why did they choose OCC' and I said, you know, it's really quite simple. It's because we're the best," Provenzano said proudly. "I know there's a lot of work that went on behind the scenes, and I couldn't be more proud of the entire team."
OCC has had two national governmental visits on its campuses in the last two semesters: this visit and another with Sen. Gary Peters who hosted a roundtable discussion with area key leaders on infrastructure issues at the Southfield campus in June, 2021. Senator Peters also joined OCC in May for an online discussion with veterans, students, employees and community members on Post-Traumatic Stress Disorder (PTSD), which is on the rise among veterans and college students. PTSD.
The last presidential-level visit at OCC was with then presidential candidate George W. Bush, who visited in October, 2000, when he spoke to more than 5,000 supporters at the College's Orchard Ridge campus.
###
About OCC
Offering nearly 100 degrees and certificates, OCC is Michigan's largest multi-campus community college and No. 1 transfer institution in the state. The College provides academic, career training and enriching experiences, designed to empower students to reach their potential and enhance our community. More than 1 million students have enrolled in the College since it opened in 1965. A seven-person Board of Trustees governs OCC. Board members are elected on a non-partisan, at-large basis, serve as volunteers and are not paid. Mission statement: OCC is committed to empowering our students to succeed and advancing our community. Learn more at oaklandcc.edu.
Media Contact: Marketing & Communications | 248.341.2020 | contactus@oaklandcc.edu