As anticipation builds for OCC's virtual commencement August 8, many graduates are also facing the uncertainties of conducting a career search during the COVID-19 pandemic. Donna DuHame-Schmidt, OCC's director of career services and cooperative education, acknowledges the concern and suggests students – and all job seekers – put things in perspective.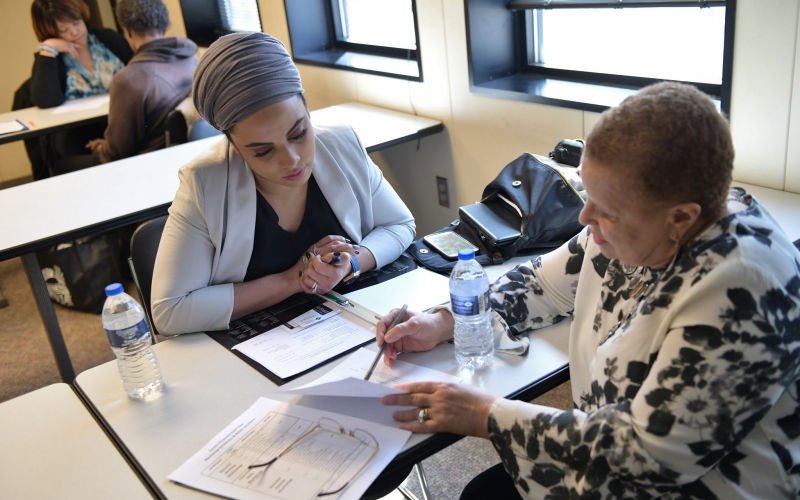 "It's always a mix of emotions as graduation approaches, and the stress is a bit higher this year because of all the ways students have been forced to adapt due to Coronavirus closures," said DuHame-Schmidt. "While many things have changed, the recruiting process has remained relatively unchanged by Coronavirus, which is good news for all job seekers."
According to DuHame-Schmidt, the Coronavirus has pushed many major corporations to accelerate the recruiting changes that were already underway while small- and mid-sized companies are keeping pace based on available resources. DuHame-Schmidt said students entering the job market should expect four new changes in their job search:
1. Expect to be tested - One of the changes job seekers can expect is to pass through a skill or aptitude screen to assess competency in writing, communication, technical skills, Microsoft suite and even typing proficiency.
"Virtual screening tools are part of the application process for some larger companies now. It's possible a candidate won't proceed to the next step in the application and review process if they don't perform to standards on the initial screening," said DuHame-Schmidt. "Students should be prepared each time they apply to a job that they may need to complete a related skill assessment before they're even able to submit their resume and finish the application process."
2. Master the job application system - Before a job seeker arrives at the virtual screening process, they first need to win over the Application Tracking System, a computerized screening calibrated to recognize specific words applicable to the position.
"A powerful, results-based resume is a key first step. An applicant needs to customize each resume to feature key words based on the position description. A hiring manager won't see your resume if it doesn't first clear the Applicant Tracking System," said DuHame-Schmidt. "There is no 'one and done' resume in today's career search. It's important a candidate modify each resume to match the job description, especially when it comes to specific technical skills."
DuHame-Schmidt notes that, on average, less than 10 seconds of consideration is spent on the first human review of your resume; the next screening will be more comprehensive.
3. Prepare for "soundbite" interview - Another step in the application process could include a solo, "soundbite" interview, a task some candidates find daunting, according to DuHame-Schmidt.
"Some companies now ask prospective candidates to respond to computer-prompted questions. For instance, a candidate will see a question on the screen and have 15 to 30 seconds to prepare a response. Once the preparation time concludes, the recording starts immediately. In many cases, there is no 're-do button' so, similar to a traditional face-to-face interview, I strongly encourage students to brainstorm questions and practice complete, concise answers," said DuHame-Schmidt.
4. Get familiar with virtual technology - DuHame-Schmidt also stresses students have their workspace organized, get comfortable with the proper technology and conduct mock interviews using Zoom, GoToMeeting, or other platforms to ensure lighting, camera angle, audio and other technical issues are set.

"Discovering once the interview starts that you don't like the way you're framed, or that the artwork or book in the background doesn't present a professional image will do little for your confidence, and could create a poor impression," she said. "Resolve those issues long before the interview."
OCC Career Services & Cooperative Education offers employment related services to students, alumni, and community residents, including resume review, interview preparation, career workshops, the College Central Network online job board, and job fairs. For more information, contact Donna DuHame-Schmidt at dlduhame@oaklandcc.edu or 248.522.3505.
About OCC
Offering nearly 100 degrees and certificates, OCC is Michigan's largest multi-campus community college and No. 1 transfer institution in the state. The College provides academic, career training and enriching experiences, designed to empower students to reach their potential and enhance our community. More than 1 million students have enrolled in the College since it opened in 1965. A seven-person Board of Trustees governs OCC. Board members are elected on a non-partisan, at-large basis, serve as volunteers and are not paid. Mission statement: OCC is committed to empowering our students to succeed and advancing our community. Learn more at oaklandcc.edu.
###
Media Contact: OCC Marketing & Communications | 248.341.2020 | contactus@oaklandcc.edu