Mathematicians are known to be inquisitive, detail-oriented and organized. Math leaders are said to also be creative and good at handling stress. With these traits in hand, it's easy to sum up the leadership choice of Julie Gunkelman as president of the Michigan affiliate of the American Mathematical Association of Two-Year Colleges, MichMATYC.
"I am honored to serve as the newest MichMATYC president, and look forward to continuing and building upon the legacy of past MichMATYC presidents," said Gunkelman. "I am passionate about professional development, and I'm committed to helping others develop their skills."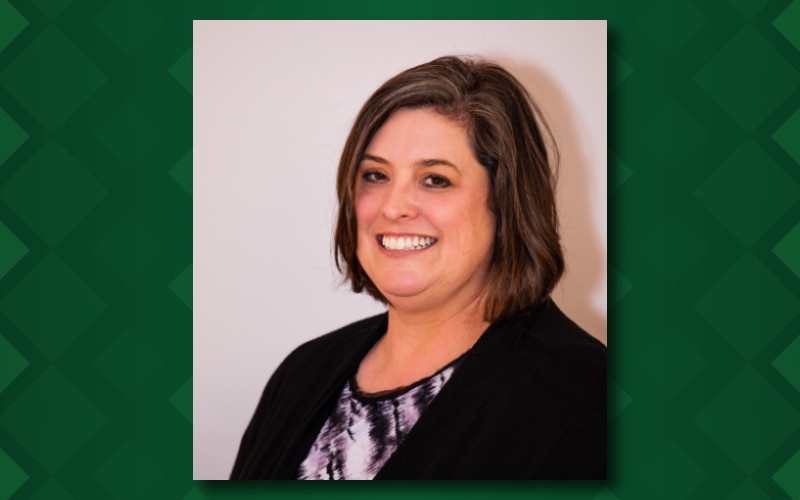 Recognized for her leadership and innovation, the OCC mathematics instructor was named a national finalist for the American Association of Community Colleges Faculty Innovation Award in 2018. She prides herself on using a variety of instructional techniques to create an active learning environment for students.
"Our faculty and staff take great pride in ensuring our students succeed and in giving back to the community in a variety of ways," said Daniel J. Jenuwine, vice chancellor for advancement. "Julie's contributions to the Michigan Mathematical Association of Two-Year Colleges and appointment as its new president is an example of her excellence, recognized by her colleagues across the state."
By the numbers
Gunkleman , who joined OCC in the fall of 2007, is the third OCC faculty member named to the state-wide leadership post, joining Nancy Williams (1985-1987) and Gladys Rockind (1997-1998) as president of MichMATYC. She becomes the association's twenty-fifth president in its nearly 40-year history. Her term begins June 1, 2020.
Gunkelman previously served as a MichMATYC delegate, and served three years as the professional development coordinator for AMATYC. MichMATYC awarded Gunkelman a Teaching Excellence Award in 2014. She also served AMATYC as the Math League Coordinator for OCC from 2010 to 2016, a role she has taken again beginning in the Winter 2020 semester.
She earned her Master of Arts in Mathematics from Eastern Michigan University and her Bachelor of Science in Mathematics from Michigan State University.
About Michigan Mathematical Association of Two-Year Colleges
Founded in 1981, MichMATYC provides a professional venue to share ideas, consolidate resources, plan for the future needs of community college students and build connections to university mathematics across Michigan. MichMATYC is an affiliate of the American Mathematical Association of Two-Year Colleges, the only organization exclusively devoted to providing a national forum for the improvement of mathematics instruction in the first two years of college.
About OCC
Offering nearly 100 degrees and certificates, OCC is Michigan's largest multi-campus community college and No. 1 transfer institution in the state. The College provides academic, career training and enriching experiences, designed to empower students to reach their potential and enhance our community. More than 1 million students have enrolled in the College since it opened in 1965. A seven-person Board of Trustees governs OCC. Board members are elected on a non-partisan, at-large basis, serve as volunteers and are not paid. Mission statement: OCC is committed to empowering our students to succeed and advancing our community. Learn more at oaklandcc.edu.
###
Media Contact: OCC Marketing & Communications | 248.341.2020 | contactus@oaklandcc.edu