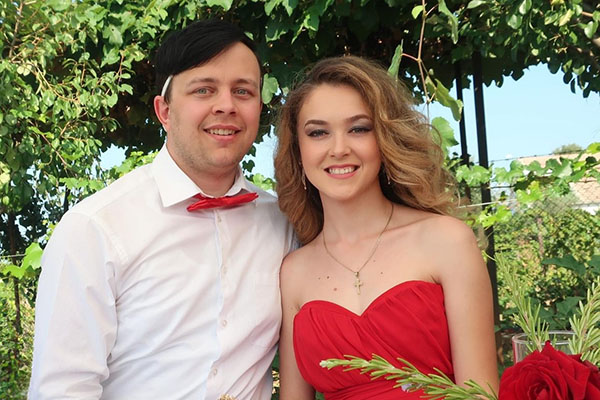 Klea and her husband Patrick met at OCC
Raised in Vrakë, a small village in northwest Albania, Klea Noskey was part of a culture where girls rarely advanced beyond middle school and expected to marry young and raise a family. Noskey had different aspirations.
After graduating Albanian high school, Noskey moved alone to Michigan to live with relatives she didn't know. With her dad, Tonin, and mom, Zina's, support she relocated to Shelby Township to live with her mom's brother and his wife. Thanks to her aunt and uncle's generosity, Noskey (whose maiden name is Klea Gjinaj) lived with them for three years while attending Oakland Community College (OCC), where she studied to be a pharmacy technician.

"My parents were very excited for me to have this opportunity," she said. "However, they were very worried that I would be moving so far away from them in a completely different country and different culture. My mom has always dreamed of finishing college. She has always pushed me to be independent and never stop working towards my dreams."
Noskey knew from an early age she wanted a career in healthcare. A positive interaction with a pharmacist helped her decide on her career aspirations.
"When I was young and needed medication, I remember fondly how a pharmacist took the time to explain everything about the medication, what it was used for and how it would help me. This interaction stuck with me, and I wanted to be that person to help someone else."
Noskey arrived in Michigan in 2013, full of hope. She worked hard to pursue her educational dreams, earning three associate degrees at OCC before transferring to Wayne State University where she earned a bachelor's in health sciences. She pressed on to earn a Doctor of Pharmacy degree from the university's Eugene Applebaum College of Pharmacy and Health Sciences.
Her determination paid off. In May 2023, Noskey started her residency at Corewell Health Hospital in Troy and plans to become a clinical pharmacist – the dream she set out to achieve.
With her future looking bright, Noskey is quick to show her appreciation for the opportunities she gained her – and for her experience at Oakland Community College. The College spearheaded not only her education and professional career; it is also where she met the love of her life.
Finding a new village of support 5,000 miles from home.
"I enrolled at OCC because it was close to my new home, affordable and offered the pharmacy technician program I wanted to study. However, I learned a lot more once I startedclasses there."
The first person she met at OCC was International Student Counselor, Diana Schack, who helped Noskey with the international student application process and got her started. "Diana is the sweetest person I have ever met. She is retired now but she will always be a big part of my story at OCC."
Schack continued to assist Noskey throughout the years, providing ongoing support with her international student paperwork and connections to others.
During her first semester at OCC, Noskey took English grammar class with OCC faculty Sarah Lemelin.
"I loved her teaching style and how open she was to teach us not just about complex grammar but also American culture."
Noskey says she loved the diversity of OCC's Auburn Hills campus and felt more at home in the College's smaller classes to get started. She appreciated her relationships with professors and staff and their willingness to help her succeed.
"I joined the student ambassador program that was led by Jessica Lizardi and learned so much from her. Those were the first steps toward my passion about leadership and helping people."
Noskey explains one of the little things that made an impact was when she created a LinkedIn account as a student.
"It might not look like a big thing, but when I transferred to Wayne State to finish the pharmacy program, I was one of the only ones to have heard of and have a LinkedIn account. OCC was the foundation of my professional and personal growth."
Meeting the love of her life at OCC
Noskey expresses that she had the best experience at OCC and the greatest highlight: meeting Patrick Noskey, the man who would become her husband 11 months after meeting in computer class. Patrick, a financial analyst in Troy, and Klea now live in Lake Orion.
"I married an American. It wasn't heard of in my family before. But we knew it was right," she said. "We met in room C117; every so often we visit OCC, pass by room C117 and take a picture in front of the room. It has been seven years since that cold January afternoon class where I first met my husband, and I will always be grateful to OCC for that as well."
Noskey's story remains one of hope, promise and determination.
About OCC  
Oakland Community College offers nearly 100 degrees and certificates programs with the resources students need to be successful and advance our community. As a top transfer institution, OCC offers one of the state's most affordable tuition rates and flexibility in scheduling with face-to-face and online options. The College is nationally recognized for its high-demand career training with expert faculty in their fields. More than 1 million students have enrolled in the College since it opened in 1965. Learn more at oaklandcc.edu.  
 ###
Media Contact: Marketing & Communications | 248.341.2020| contactus@oaklandcc.edu