Oakland Community College alum Laith Arabi, who moved from Syria in 2011, vividly remembers his first trip to OCC that same year.
The weather was chilly and snowy that day, and his uncle accompanied him to meet an admissions counselor at the Orchard Ridge Campus.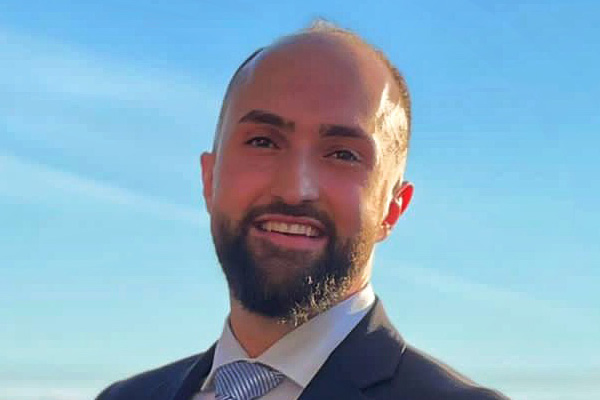 OCC alum Laith Arabi
"While on our way, my uncle shared that he had attended OCC to learn English before becoming a dentist at the University of Detroit Mercy School of Dentistry," Arabi recalls. "When we met the counselor, she asked about my program of interest. Without hesitation, I expressed my desire to study medicine. She warmly smiled and assured me of OCC's support."
The counselor suggested Arabi start with an English placement test and enroll in science classes.
"At that moment, I recognized that the journey ahead might be challenging, but I persevered in pursuing my ambition."
The placement test results placed him in the English as a Second Language (ESL) Level I, but he was eager to begin from the fundamentals and enrolled in OCC's bridge class, a non-credit course that paved the way for the ESL program.
"This class furnished me with a sturdy foundation for commencing my English education," Arabi said.
A pivotal figure in his learning journey was Arabi's ESL instructor, Mike Khirallah.
"He was the most impactful among the educators I have encountered at OCC," Arabi said. "His approach was professional, approachable, and he had a knack for explaining things thoroughly."
Arabi said his first speaking class with Khirallah left a lasting impression, an experience he still carries with him. So much so that even his mother took the same course with Khirallah in 2020 and spoke highly of it bolstering her confidence to communicate in English.
After taking English and science courses at OCC, Arabi, who resided in West Bloomfield, transferred to Oakland University, where he received a bachelor's degree in health science before being accepted into the Doctor of Chiropractic program at the National University of Health Sciences in Lombard, Illinois.
As he approaches his final semester, he eagerly anticipates becoming a doctor of Chiropractic Medicine in December 2023 and aspires to return to Detroit to establish his practice.
"This trajectory of achievements commenced on a chilly day at Oakland Community College, and through diligence and support, I have progressed to this point," he said.
Khirallah shared that Arabi was a joy to have in class.
"He was enthusiastic and persistent in every activity -- and a natural leader in group projects. I'm not surprised at all how far he has come,"  he said.
Advice for other ESL learners
Arabi expresses that embarking on the path of ESL education at OCC is a journey of challenges and opportunities. Having traversed this road, he offers the following insights from personal experience:
Active Participation: "Engagement is the cornerstone of learning. In your ESL classes, participate actively. Inquire, discuss, and contribute to conversations. By engaging in language learning, you can develop a more profound comprehension of the language and boost your self-assurance."
Practice Outside Class: "Language acquisition thrives on immersion. Extend your learning beyond the classroom by incorporating English into your daily life. From reading and listening to native content to conversing with peers, every interaction contributes to your progress."
Immerse Yourself in English: "Always surround yourself with English. Adjust your devices to the language, engage with English media, and seek opportunities to converse with classmates or native speakers. This constant exposure accelerates your learning curve."
For further information visit English as a Second Language at OCC.
About OCC   
Oakland Community College offers nearly 100 degrees and certificates programs with the resources students need to be successful and advance our community. As a top transfer institution, OCC offers one of the state's most affordable tuition rates and flexibility in scheduling with face-to-face and online options. The College is nationally recognized for its high-demand career training with expert faculty in their fields. More than 1 million students have enrolled in the College since it opened in 1965. Learn more at oaklandcc.edu.   
 ###  
Media Contact: Marketing & Communications | 248.341.2020| contactus@oaklandcc.edu