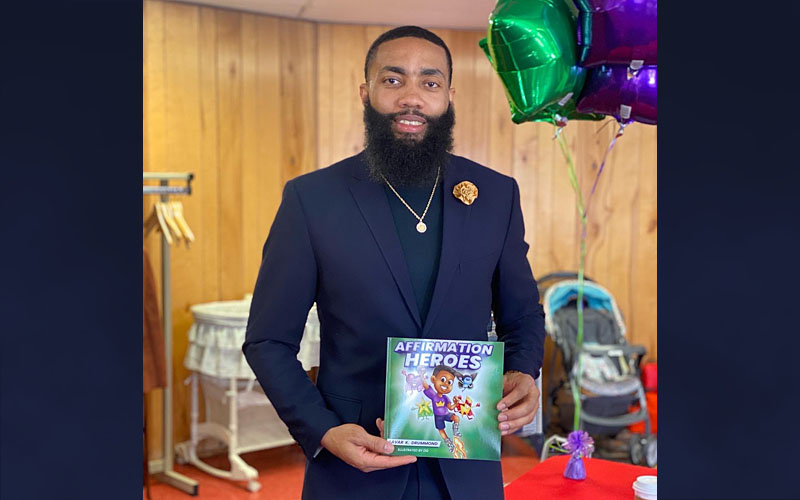 Lavar Drummond hopes children will learn through his book and experiences, the key takeaways he learned as an OCC student — believe in yourself and think optimistically. The author, licensed counselor and educator crafted "Affirmation Heroes," a story of one boy's journey meeting magical characters who help him achieve anything he puts his mind to. The message Drummond wants to convey is children can use affirmations to manifest anything they want in life.
"I wanted to write a book for kids that they could enjoy ​​​​​​​reading with their families and also motivate families to read to their children," he said. "I also wanted a book that is beneficial for children's mental health. Simply having an optimistic mindset and believing in yourself has been beneficial to some of my clients."

Drummond graduated from OCC with an associate degree in general studies in 2011. The single dad took classes at several of OCC's campuses but primarily at Orchard Ridge, where he was active in the Phi Theta Kappa chapter and worked as a student assistant at the Student LIFE Center.

"The Student LIFE Center was like a fishbowl located in the middle of the building," he recalled. "Students would walk by to see who was in there and come in to ask questions. It was the first time I thought about being a counselor because students would ask random questions and, a lot of the time, I would have the answer or know how to get it."

Not only did Drummond become a Limited License Professional Counselor (LLPC), he also earned a liberal arts degree from Ferris State University, a bachelor's degree in communication from Oakland University, and a master's degree in college counseling from Eastern Michigan University. He is currently working on an educational specialist certificate at Wayne State University.

Along the way, Drummond worked in K-12 and as an instructor at Henry Ford College. He now is principal at Old Redford Academy Middle School in Detroit.

"I failed academically my first time in college," he said. "At OCC I was fortunate to come across instructors who were personable and motivated me. They made me feel like I could do big things. The aura there (OCC) pushed me to be better and further built my confidence."

Drummond worked alongside OCC Dean of Student Services Jahquan Hawkins as his student assistant in the Student LIFE office. As a non-traditional student, Hawkins said Drummond brought a different perspective to the work they were engaged in.

"He was creative, energetic and connected well with his peers," Hawkins said. "He and I have stayed in touch via social media, and it's been exciting to see his growth and development over the years. It is no surprise to me that Lavar continues to make a positive impact in the lives of others since graduating from OCC."
Drummond came to Michigan from Jamaica in the early 1990s. He now lives in Taylor and has a 16-year-old daughter and two 5-month-old sons. Learn more about Drummond in this Channel 7 story (click arrow on book cover to view video). His book can be found at www.affirmationheroes.com.
###
About OCC
Offering nearly 100 degrees and certificates, OCC is Michigan's largest multi-campus community college and No. 1 transfer institution in the state. The College provides academic, career training and enriching experiences, designed to empower students to reach their potential and enhance our community. More than 1 million students have enrolled in the College since it opened in 1965. A seven-person Board of Trustees governs OCC. Board members are elected on a non-partisan, at-large basis, serve as volunteers and are not paid. Mission statement: OCC is committed to empowering our students to succeed and advancing our community. Learn more at oaklandcc.edu.

Media Contact: Marketing & Communications | 248.341.2020 | contactus@oaklandcc.edu