Dr. Leah Aggison brings an extensive background in STEM education and student success to her new role as Oakland Community College's associate academic dean of mathematics and sciences. She joins the College from ReBUILDetroit, a consortium of University of Detroit Mercy and Wayne State University, where she served as a student success specialist mentoring students and ensuring graduate and professional school readiness and transition.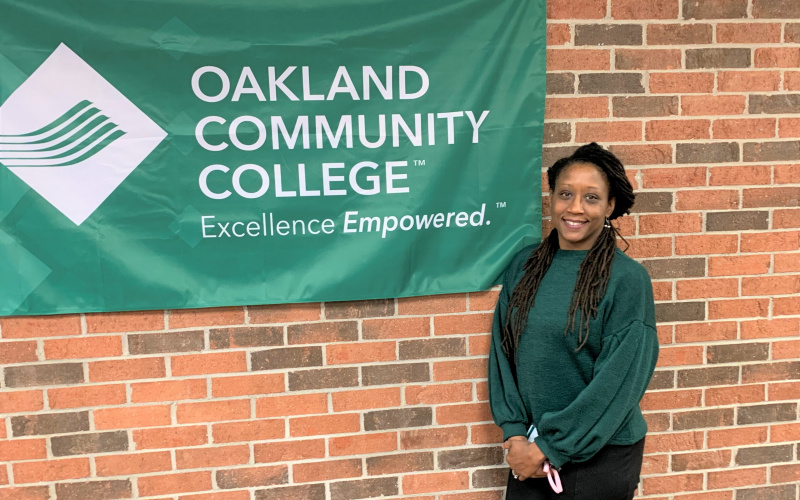 "Dr. Aggison is a trained neuroendocrine molecular biologist who defines education as her true calling," said Tim Sherwood, associate vice chancellor for academic affairs. "Her approach to education is to provide an engaging, multi-faceted learning environment; impart critical thinking skills and instill academic confidence. We welcome her to OCC, and look forward to her contributions supporting student success."
Prior to her work at ReBUILDetroit, Aggison served as an assistant professor of Biology and faculty advisor at Wiley College, and an adjunct faculty member at University of Detroit Mercy. She earned a Ph.D. in Cell / Cellular and Molecular Biology from University of Massachusetts – Amherst, and a bachelor of science in Biology with a concentration in Mathematics from Stillman College.
After reconsidering her original career path in her senior year of college, Aggison says she completed her under-graduate studies 'without a plan.' "I didn't seek enough help when I didn't receive the advising I needed during my undergraduate degree programs," said Aggison. "I was a double major in biology and mathematics. No one advised me what I could do with my math degree. So, I dropped it."
Her undergraduate experience helped her recognize the pivotal role she could play helping students navigate academia, a role she relishes today. To sweeten the deal, her students also appreciate her tasty – and literal – recognition of "Pi Day" by baking multiple pies.
About OCC
With multi campus system in Oakland County, OCC is Michigan's number one transfer institution, offering nearly 100 excellent degrees and certificates. The College empowers academic and developmental experiences, allowing students to reach their full potential and enhance the communities they serve. More than a million students have enrolled in the College since it opened in 1965. Learn more at oaklandcc.edu.
###
Media Contact: Marketing & Communications | 248.341.2020 | contactus@oaklandcc.edu