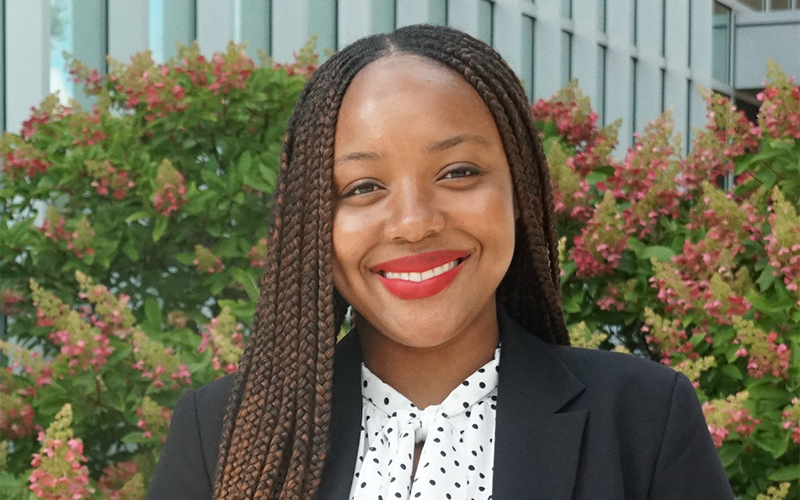 Ololade (Lola) Banks
Ololade (Lola) Banks, a higher education professional with a passion for creating educational environments in support of student success, has been named associate dean of college readiness and secondary partnerships at Oakland Community College. The College-wide position is housed at the Orchard Ridge Campus of the Student Services Division. Banks joined the College on Monday, Jan. 3, 2022.
Banks, who has also worked in the OCC Royal Oak Campus Academic Support Center, providing academic and study skills support for students, brings a wealth of experience to this new role. Most recently she served as director for student success for the North Neighborhood Engagement Center, serving a cluster of 10 residence halls at Michigan State University (MSU). The Neighborhood Student Success Collaborative strives to close opportunity gaps for underserved students by increasing persistence, retention, and graduation rates. Her role included increasing transfer student success at MSU. Prior to that role, she was director of diversity and inclusion at University of Detroit Mercy.
As a doctoral student in the Higher, Adult, and Lifelong Education program at MSU, her research interests include community colleges, student success with an emphasis on closing equity gaps, and organizational change in higher education. She received a Master of Arts, Higher, Adult and Lifelong Education from Michigan State University and Bachelor of Arts, Political Science from University of Michigan.
Banks said she chose OCC because of its demonstrated commitment to access, success for all students, and being a student-ready institution.
"I believe that being a student-ready institution is a process that continues to evolve as our student demographics, student needs, community needs, and the higher education landscape change," she said.
"I am excited and honored to be joining OCC in this capacity to expand on the solid foundation that has been built and work collaboratively with partners to increase college readiness and meet the evolving needs of our current and future students," she adds.
Beverly Tinsley-Stanbrough, OCC dean of College Readiness said Banks will bring a breath of fresh air to the Department of College Readiness and Secondary Partnerships as the Department sets new goals and objectives with K-12 partners and students served.
"We are very excited that she's joining our OCC team as she will continue to bridge the gap for students and work with our 28 school districts as we streamline our internal processes and build current and new community partnerships."
About OCC
Offering nearly 100 degrees and certificates, OCC is Michigan's largest multi-campus community college and No. 1 transfer institution in the state. The College provides academic, career training and enriching experiences, designed to empower students to reach their potential and enhance our community. More than 1 million students have enrolled in the College since it opened in 1965. A seven-person Board of Trustees governs OCC. Board members are elected on a non-partisan, at-large basis, serve as volunteers and are not paid. Mission statement: OCC is committed to empowering our students to succeed and advancing our community. Learn more at oaklandcc.edu.
Media Contact: Marketing & Communications | 248.341.2020 | contactus@oaklandcc.edu