The path to achieve your dream is sometimes winding, with unanticipated obstacles along the way. Many people may resent those twists and turns, but OCC student athlete Lonnell Martin considers them an opportunity to learn and grow.
Originally slated to attend a Division I university on a basketball scholarship, Martin landed at OCC instead.
"It was disappointing when a clerical error forced my plans to change, but it turns out my time at OCC has given me a big step forward," said Martin. "OCC has helped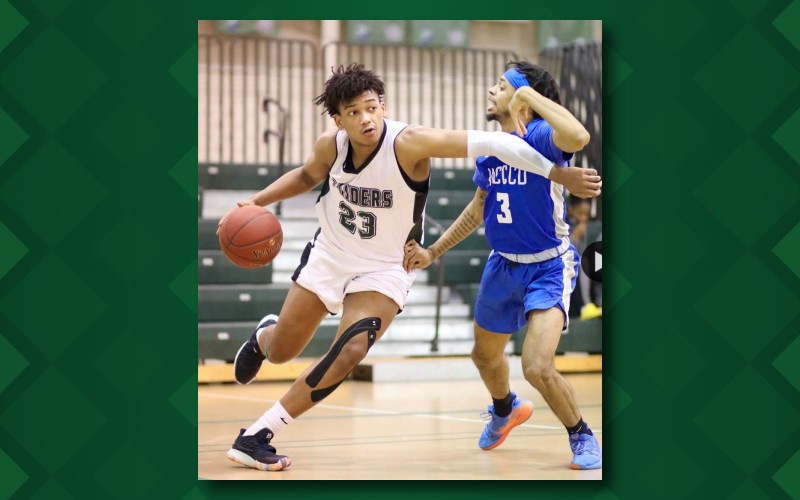 me mature and progress my academic studies. I've met so many great people, and I appreciate how my instructors take an interest in my personal and academic development."
One of those instructors is English Professor Suba Subbarao.
"Lonnell is in my American Literacy II class. Like many OCC students, he juggles multiple responsibilities and has remained steadfast during the COVID-19 crisis," said Subbarao.
Distance Strengthens Connection

Martin was surprised the first time he picked up the phone and heard Subbarao's enthusiastic greeting.
"She just called to chat. She wanted to know how I was managing my studies, and if there was anything she could do to help me navigate the stay-at-home situation and my college search," said Martin. "She took an interest in my plans. It's really clear she cares about my advancement."
Subbarao marvels that Martin makes time every day to pick up the basketball and take at least 1,000 shots, along with managing his coursework and working towards the next step in his collegiate journey, which includes a berth on a Division I basketball team. In this crisis, she's learned much more about him, including his excellent work ethic, both in and outside the classroom.
Martin, a General Studies major, was Oakland Community College's leading scorer, averaging 17.6 points per game. He led the team with 5.2 assists per game, and posted 83.7 percent at the free-throw line.
"It's been a crazy year, and it's nice to know you have people like Professor Subbarao on your side," said Martin. "I'm going to continue to chase my dream of playing basketball at the next level, and wherever I land, I'll always be grateful for my time at OCC."
About OCC
Offering nearly 100 degrees and certificates, OCC is Michigan's largest multi-campus community college and No. 1 transfer institution in the state. The College provides academic, career training and enriching experiences, designed to empower students to reach their potential and enhance our community. More than 1 million students have enrolled in the College since it opened in 1965. A seven-person Board of Trustees governs OCC. Board members are elected on a non-partisan, at-large basis, serve as volunteers and are not paid. Mission statement: OCC is committed to empowering our students to succeed and advancing our community. Learn more at oaklandcc.edu.
###
Media Contact: OCC Marketing & Communications | 248.341.2020 | contactus@oaklandcc.edu