Rafi Sony's incredible sheet-metal design skills have earned him the Head of the Class Award and a tool kit from Malco Products. Malco is one of the nation's leading manufacturers of "tools of the trade" for Heating, Ventilating and Air Conditioning professionals.
Each school year, Malco Products recognizes outstanding students graduating from career education programs in Heating, Ventilation and Air Conditioning, building construction, and autobody repair.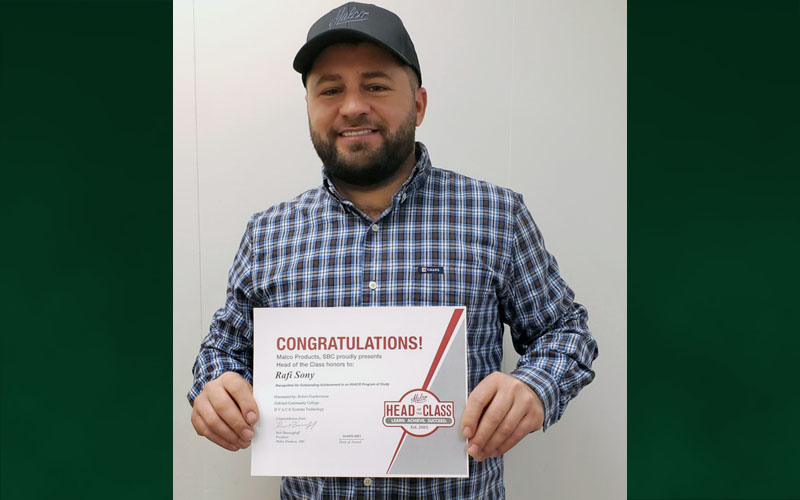 Faculty member Robert Featherstone, in Engineering, Manufacturing and Industrial Technologies, selected Sony for the award.
"I chose Rafi for this distinguished award because his sheet-metal design and layout skills are incredible," he said. "Students will do several projects in the HVA-1120 sheet-metal layout course in the College's HVACR Technology program. Most students take several weeks to refine their skill as they gradually work through their fabrication projects, but Rafi seems to have natural hands-on abilities and makes the projects look easy."
With the award, the Troy resident also received an HVAC tool kit that includes a turbo shear, impact grade quick change extension bits, a two-inch C-RHEX dual-sided magnetic hex driver, Connext3 ratcheting handle, and a magnetic measuring tape.
"I am very honored and thrilled with the recognition from Mr. Featherstone and Malco Products," Sony said. "Mr. Featherstone is a friendly motivator and great teacher. HVAC is the heart of any residential commercial infrastructure. This service technology is ongoing, cost efficient, and environmentally friendly."
Featherstone's other students and classmates of Sony's also received a Malco Cap, C-RHEX driver, Malco full-line catalog and an Advantage Edge APP card.
Since 2005, the Head of the Class initiative has reached out to student-apprentices from technical schools, Union JATC and industry association career programs across the United States and Canada.
###
About OCC
Offering nearly 100 degrees and certificates, OCC is Michigan's largest multi-campus community college and No. 1 transfer institution in the state. The College provides academic, career training and enriching experiences, designed to empower students to reach their potential and enhance our community. More than 1 million students have enrolled in the College since it opened in 1965. A seven-person Board of Trustees governs OCC. Board members are elected on a non-partisan, at-large basis, serve as volunteers and are not paid. Mission statement: OCC is committed to empowering our students to succeed and advancing our community. Learn more at oaklandcc.edu.
Media Contact: Marketing & Communications | 248.341.2020 | contactus@oaklandcc.edu