WJR celebrates Manufacturing Day with first-ever live broadcast on an OCC campus.
More than 1,000 high school students saw the future and learned how they could be part of the world of advanced manufacturing. Oakland Community College already is preparing the workforce of tomorrow.
By 2024, 800,000 jobs representing $50 billion in earnings will need to be filled in Michigan.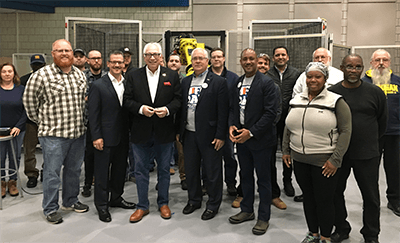 These days, what many companies are doing is looking for employees.
"The state of Michigan estimates that between now and 2024, there will be over 800,000 job openings — that equates to $50 billion worth of earnings," OCC Chancellor Peter Provenzano noted on Manufacturing Day morning during a conversation with WJR's Paul W. Smith, who brought his show on AM 760 to OCC for a first-time live-remote broadcast.
On Friday, October 5, more than 1,000 high school students and 43 companies took part in Manufacturing Day in Oakland County, the largest local participation in the four years that the county has been involved in the national celebration.
Students from high schools across Oakland County were reminded anew that the tools of manufacturing can shape their world as profoundly as the tools of education can shape their minds. Oakland Community College was a gold sponsor of Manufacturing Day, which provides an opportunity for students to get a firsthand look at what today's engineers, technicians and others do each day at advanced manufacturers across the region.
"These jobs are all in high-demand, high-pay, high-skill jobs," Provenzano said. "OCC is uniquely positioned to help with all of these because we specialize in certificate and associate degrees and have strong transfer agreements with our partner universities as the largest transfer institution in the state of Michigan."
Others interviewed during Smith's show were Doug Smith, OCC's executive director of economic and workforce development, who discussed how OCC is helping address the talent shortage in Michigan; Cynthia Hutchison, senior director of Automation Alley; and Keith Yancy, director of the Fiat Chrysler Automobiles Performance Institute.
Link to all of the interviews on WJR's page at: http://www.wjr.com/paulwsmith/
Manufacturing Day in Oakland County is organized by OCC, Oakland County Michigan Works!, the Oakland County Department of Economic Development & Community Affairs and Oakland Schools. The event's platinum sponsor is Magna International. Besides OCC, gold-level sponsors were Automation Alley, Hi-Tech Mold & Engineering, Kelly Services and Lawrence Technological University. NLB Corp. was a silver sponsor and Hirotec, MPD Welding and Wenzel bronze sponsors.
About OCC
With multi campus system in Oakland County, OCC is Michigan's No. 1 transfer institution, offering nearly 100 degrees and certificates. The College empowers academic and developmental experiences, allowing students to reach their potential and enhance their communities. More than 1 million students have enrolled in the college since it opened in 1965. A seven-person Board of Trustees governs OCC. Board members are elected on a non-partisan, at-large basis, serve as volunteers and are not paid. Learn more at oaklandcc.edu.
###
Media Contact: Marketing & Community Relations | 248.341.2020 | contactus@oaklandcc.edu