From the country's epicenter of advanced manufacturing, Oakland County's Department of Economic Development, Oakland Community College, Oakland County MichiganWorks! and Oakland Schools partnered together to connect students and future employers at Manufacturing Day 2022. The event provided a first-hand look at new innovations and reinvented futures available close to home.
Oakland County Manufacturing Day returned to an in-person format on Oct. 7 with more than 700 students from 17 school districts and four technical campuses touring 31 advanced manufacturing facilities around the county.
"Oakland County is the epicenter of advanced manufacturing and we're excited to connect our employers and students for these tours," said Oakland County Executive David Coulter. "Events like Manufacturing Day inspire students to begin their journeys toward successful careers and allow employers to meet with the workforce of the future."
During their three-hour visit, students and teachers received tours of design labs, testing centers, and assembly operations; participated in hands-on activities; and engaged with employees to learn about career paths, skills and entry-level job opportunities.
Students get inside look at some of the most successful manufacturers in the region; reimagine the future of America's workforce.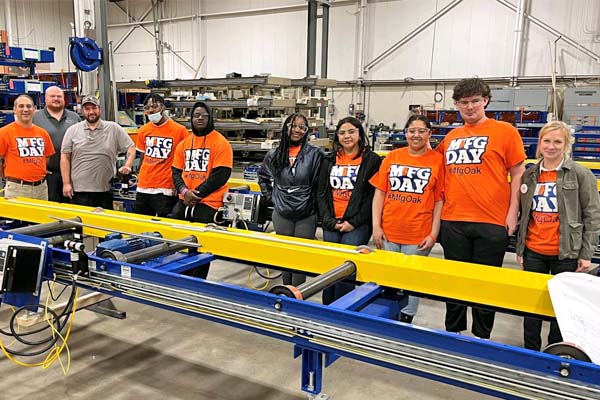 Cameron Albring (right), OCC's apprenticeship coordinator, with area students on a tour of FATA Automation during Manufacturing Day.
"Manufacturing Day is a valuable window into the world of high-tech manufacturing in Oakland County," said Joseph Petrosky, OCC's Associate Provost of Academics and Workforce. "As a young student thinking about their own career pathway after high school, it's so important to have some personal experiences into making that decision. Manufacturing day affords the opportunity to ask questions, meet real people in real jobs and learn about the many career opportunities and pathways in this exciting field."
In addition to Petrosky, other OCC employees hosted students at various manufacturing facilities during this year's event including Apprentice Coordinator Cameron Albring at FATA; Economic Workforce Development (EWD) Business Services Manager Kristen Charlton at Mayville Engineering Company; EWD Coordinator Lina Gerchak at Heller Machines; and Administrative Specialist Kim Reid at Borg Warner.
This year's tour host companies included 3-Dimensional Services Group; American Axle Manufacturing (AAM) - Auburn Hills; AAM Metal Forming – Royal Oak; ABB; Ascent Aerospace; Atlas Copco; Automation & Modular Components; BorgWarner; Brose North America; Ferndale Pharma Group, Inc.; FATA Automation; General Motors, Performance and Racing Center; GHI Electronics; Gonzalez Production Systems; Heller Machine Tools; HIROTEC AMERICA; Hi-Tech Mold & Engineering; Humanetics; JR Automation; Kawasaki Robotics (USA) Inc.; MacLean-Fogg; MEC – Mayville Engineering Company; Star Cutter Company; STEC USA; Three M Tool & Machine; Visioneering, Inc.; Webasto Roof Systems; WENZEL America; Williams International; and Witzenmann USA.
Financial supporters include transportation sponsor Williams International and event sponsors AAM, FATA Automation, Gonzalez Production Systems, Heller Machine Tools, Hi-Tech Mold & Engineering, Humanetics, Oakland Community College and Witzenmann USA.
OCC's Engineering, Manufacturing and Industrial Technology (EMIT) programs offers students a number of certificates and degrees in the skilled trades that prepare them for a career in a variety of manufacturing areas, including Automobile Servicing; Collision Auto Repair; Heavy Equipment Repair; Machine Tool Technology; Pre-Engineering; Robotics and Automated Systems Technology; and Welding and Fabrication Technology.
About OCC
Offering nearly 100 degrees and certificates, OCC is Michigan's largest multi-campus community college and one of the top transfer institutions in the state. The College provides academic, career training and enriching experiences, designed to empower students to reach their potential and enhance our community. More than 1 million students have enrolled in the College since it opened in 1965. A seven-person Board of Trustees governs OCC. Board members are elected on a non-partisan, at-large basis, serve as volunteers and are not paid. Mission statement: OCC is committed to empowering our students to succeed and advancing our community. Learn more at oaklandcc.edu.
###
Media Contact: Marketing & Communications | 248.341.2020 | contactus@oaklandcc.edu