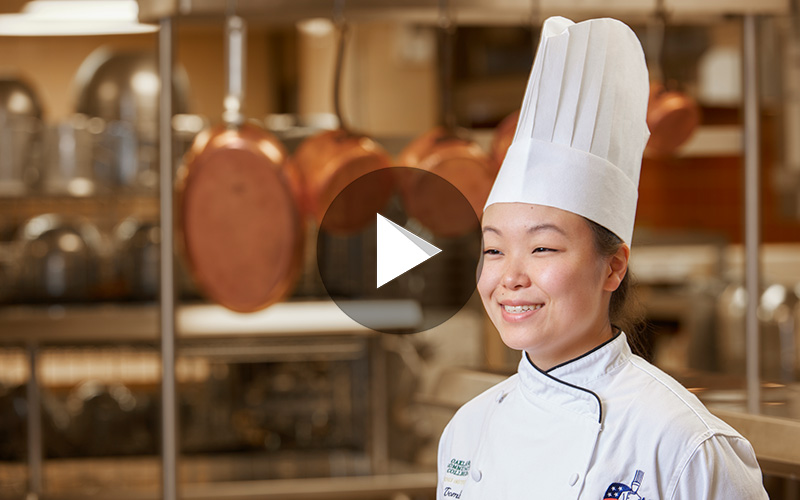 OAKLAND COUNTY, Michigan – Hitomi Tomobe credits her parents and instructors at Oakland Community College for her success.
Tomobe, an OCC culinary arts student and 2018 Michigan Chefs de Cuisine Association's Student Chef of the Year, was inspired by her parents to start cooking.
"Food is an important way for my parents to connect with family members before them," she said. "My dad is a professional sushi chef at Noble Fish and loves to explore a wide range of cooking styles including paella and Italian dishes. My mom prepares mostly traditional Japanese cooking in our home and started cooking earlier than most elementary-age children, when a parent passed away at an early age and the house chores were split between family members. My father's mother passed when he was 18 and cooking was something he wanted to explore to preserve her memory."
"As I entered high school, I began working in the student restaurant simply out of curiosity and found my pathway, seeing both sides of the cooking world through them," she said.
Now age 22, Tomobe is focused on her culinary studies at OCC.
"The thing that I love about OCC is all the instructors have worked in the industry before, and they're all very passionate," Tomobe said. "They really invest a lot of time in bringing that passion to their students. They work really hard to put a good attitude into students as well as teaching them all the important basics of working in a kitchen."
Tomobe currently works at Walnut Creek Country Club under Executive Chef and OCC alumnus Chef Andrew Sayes. They met through a competition class at OCC.
"I highly recommend OCC's culinary program because all the instructors here really invest in each of their students and show them their own individual potential, which they to do every semester. It's really interesting to see generations of OCC instructors and alumni who have succeeded, led the way before us, and are giving back to students in the program."
OCC's award-winning Culinary Studies Institute has been preparing aspiring chefs for a career in the food and beverage industry for decades. Tomobe will compete this spring in a regional chef competition. In the meantime, her passion for cooking continues to build like her preparation style and repertoire of recipes.
To hear more from Tomobe and other students, visit OCC's YouTube channel.
About OCC - With multi campus system in Oakland County, OCC is Michigan's No. 1 transfer institution, offering nearly 100 degrees and certificates. The College empowers academic and developmental experiences, allowing students to reach their potential and enhance their communities. More than 1 million students have enrolled in the college since it opened in 1965. A seven-person Board of Trustees governs OCC. Board members are elected on a non-partisan, at-large basis, serve as volunteers and are not paid. Learn more at oaklandcc.edu.
###
Media Contact: Marketing & Community Relations | 248.341.2020 | contactus@oaklandcc.edu