During a time when it was needed most, Dr. Mary Miles demonstrated leadership, innovation and excellence in healthcare. Suddenly unable to place students in clinical settings with patients and onsite other experiences during the pandemic, OCC's Dean for Health Sciences worked through barriers to ensure learning excellence and fulfill a critical need in the community.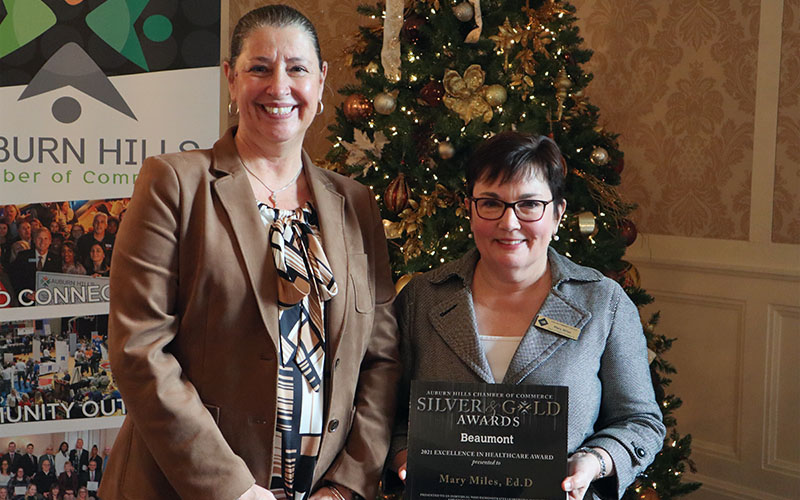 OCC's Mary Miles (r) receives the Beaumont Health Excellence in Healthcare Award
Miles was awarded the Beaumont Health Excellence in Healthcare Award for her efforts during the Auburn Hills Chamber of Commerce Silver & Gold Awards held December 6 at the Royal Park Hotel in Rochester. The awards recognize individuals, companies and organizations for significant achievement in education, innovation, and business throughout the year.
During the pandemic, Miles led OCC's Health Sciences Department in making necessary pivots and utilizing technology including virtual simulations to continue learning in real life scenarios. These efforts assured hundreds of students were fully prepared to become registered nurses, dental hygienists, surgical technologists, and other allied health professionals.
"I'm very honored, but the award really represents the work on behalf of the entire division, who had a goal of keeping students on track toward their educational program," Miles said. "We worked extremely hard to implement safety protocols during the pandemic and meet students' needs wherever they were at. It was truly a group effort."
Hands-on experiences with patients are essential to student success and required by accreditors who oversee healthcare education. The College faculty employed state-of-the-art technology to simulate high-pressure and high-stake healthcare instances while keeping students at a safe distance from patients. The College utilized Federal COVID-19 emergency relief funds to invest in this technology and a simulation laboratory to enhance healthcare teaching and learning both in times of struggle and relative calm.
"In large part, due to the efforts of Dr. Miles and OCC's health professions faculty and staff, there will be no lag in providing new, highly skilled health professions to Oakland County hospitals and medical facilities," Michelle Simon of Beaumont Health said during the awards presentation. "OCC will graduate healthcare professionals at pre-pandemic rates and, under Dr. Miles' leadership, the College will continue to work with its partners to find areas of need and provide programming to match student talent with industry requirements."
Other distinguished award nominees included Kelly, Berishaj, DNP, RN, ACNS-BC, SANE-A, Oakland University - School of Nursing; Anna Liza Casem, Beaumont Troy; and Judy Didion PhD, RN, Oakland University School of Nursing.
OCC was also nominated for the Chief Financial Credit Union Strategic Partner Award for its community impact in workforce development, and Board of Trustees Member Susan Gibson, Director of Client Services and Business Development at Rehmann, was nominated for the Andrews Hooper Pavlik PLC Woman's Leadership Award.
About OCC
Offering nearly 100 degrees and certificates, OCC is Michigan's largest multi-campus community college and No. 1 transfer institution in the state. The College provides academic, career training and enriching experiences, designed to empower students to reach their potential and enhance our community. More than 1 million students have enrolled in the College since it opened in 1965. A seven-person Board of Trustees governs OCC. Board members are elected on a non-partisan, at-large basis, serve as volunteers and are not paid. Mission statement: OCC is committed to empowering our students to succeed and advancing our community. Learn more at oaklandcc.edu.
Media Contact: Marketing & Communications | 248.341.2020 | contactus@oaklandcc.edu