Residents 25 and Older Can Earn Associate Degree or Skills Certificate to Improve Career, Earnings Opportunities
Oakland Community College, in partnership with the Michigan Reconnect program, is offering free in-district tuition to qualifying Michigan residents who want to earn an associate degree or certificate. Students have four years to complete an associate degree or eligible certificate in one program of study.
"Community colleges are constantly thinking about how the programs we offer are preparing graduates for the work of the future, "said OCC Chancellor Peter Provenzano, Jr. "The Michigan Reconnect is a great way for residents to come to OCC to improve their job opportunities and increase their earnings potential while getting free in-district tuition."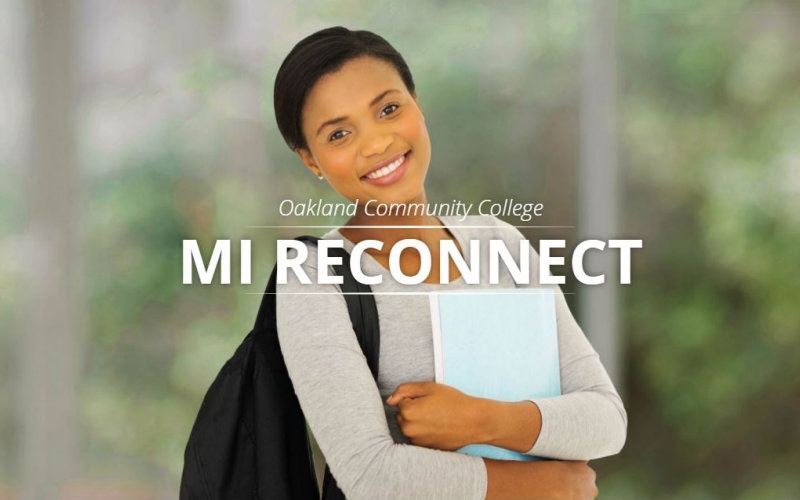 To qualify for the free tuition, Michigan residents must meet all the following criteria:
At least 25 years of age
U.S. citizen or eligible non-citizen
Hold a high school diploma or GED
Do not currently hold a college or university degree
Students must complete at least six-credit hours in a semester and earn a minimum of 12 credit hours in a 12-month period.
OCC has more than 80 degrees and certificate options in Culinary Arts, Health Sciences, Manufacturing and other academic areas that qualify for the Michigan Reconnect program. For more information about the Michigan Reconnect program or to apply, visit OCC's MI Reconnect or the State of Michigan Reconnect page.
About OCC
Offering nearly 100 degrees and certificates, OCC is Michigan's largest multi-campus community college and No. 1 transfer institution in the state. The College provides academic, career training and enriching experiences, designed to empower students to reach their potential and enhance our community. More than 1 million students have enrolled in the College since it opened in 1965. A seven-person Board of Trustees governs OCC. Board members are elected on a non-partisan, at-large basis, serve as volunteers and are not paid. Mission statement: OCC is committed to empowering our students to succeed and advancing our community. Learn more at oaklandcc.edu.
###
Media Contact: Marketing & Communications | 248.341.2020 | contactus@oaklandcc.edu