Promoting Diversity, Equity, Inclusion and Justice in Higher Education
Oakland Community College (OCC) is no stranger to virtual events, having successfully migrated expert speaker series and even recruiting fairs to a remote format. This expertise, combined with OCC's continued commitment to honoring and promoting diversity in our community, is the perfect formula to kick off 2021 with a week-long, meaningful virtual celebration of the life and work of Dr. Martin Luther King, Jr.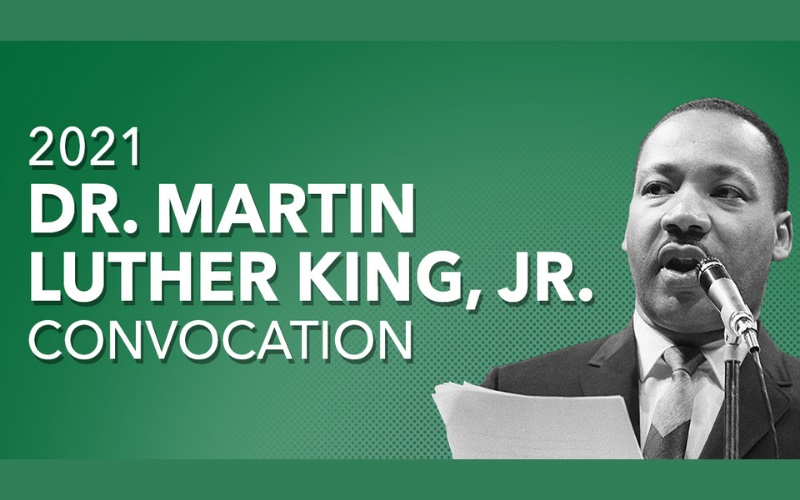 From Jan. 12–15, OCC will host four virtual events to further Dr. King's legacy with important discussions about diversity and racial equity in education. Through panel discussions, art analysis and renowned speakers, College and community members will gain a greater understanding of the enduring system of injustice that Dr. King dedicated himself to fighting and deeper insight into how each of us can create a more just future.
"It is a challenging and complicated time in our nation's history particularly as it relates to issues of race, ethnicity and identity," said Steve Simpson, OCC's Chief Strategy Officer and one of the main organizers of the events. "While we understand the significance of this holiday recognizing the work of Dr. Martin Luther King Jr., we also recognize it is incumbent upon Oakland Community College to provide a forum for the frank and open discussion of these issues."
OCC invites students, employees and the community to participate in the following events:
· Tuesday, Jan. 12, at noon, features a panel discussion on how OCC's Health and Human Services areas are working to ensure inclusivity, justice and equity in education. Click here to register.
· Wednesday, Jan. 13, beginning at 1:30 p.m., OCC partners with the Detroit Institute of Arts (DIA) to present "Permission to Wonder: Visual Thinking Strategies." This workshop features works of art, inspired by the life and work of Dr. King, to facilitate discussions and elicit multiple points of view and perspectives. In a safe and non-judgmental atmosphere, attendees will learn, while we all may be looking at the same image, we see things differently. Click here to register.
· Thursday, Jan. 14, at noon, OCC Sociology instructor Dr. Alfred Defreece presents "Dr. King Would Never Take a Freeway: The Dangers of America's Racial Dementia." His talk explores the ways in which Dr. King's words and legacy have been misused and misrepresented over the years, and educates higher education professionals on how best to share and promote Dr. King's true vision. A Q&A session will accompany this event. Click here to register.
· Friday, Jan. 15, at 10:00 a.m., features keynote speaker Dr. Rita Fields who made the journey from homeless high school dropout to dual CEO, college professor and sought-after public speaker and consultant to inspire and bring personal meaning to the life and dream of Dr. Martin Luther King, Jr. Click here to register.
According to Simpson, OCC serves as a point of intersection for education, law enforcement, allied health, human services and the business community, and is uniquely positioned to lead the conversation on issues of racial diversity and inclusivity.
"Our hope is that this series of events will both recognize the legacy of Dr. King and create a safe space to expand perspectives, understanding, and awareness around how these very salient issues impact all of us each day," he said.
Learn more about these events at www.oaklandcc.edu.
About OCC
Offering nearly 100 degrees and certificates, OCC is Michigan's largest multi-campus community college and No. 1 transfer institution in the state. The College provides academic, career training and enriching experiences, designed to empower students to reach their potential and enhance our community. More than 1 million students have enrolled in the College since it opened in 1965. A seven-person Board of Trustees governs OCC. Board members are elected on a non-partisan, at-large basis, serve as volunteers and are not paid. Mission statement: OCC is committed to empowering our students to succeed and advancing our community. Learn more at oaklandcc.edu.
###
Media Contact: Marketing & Communications | 248.341.2020 | contactus@oaklandcc.edu