Join OCC in celebrating the life and dreams of Dr. Martin Luther King, Jr. at the College's Annual MLK Convocation and self-guided, educational Peace Walk.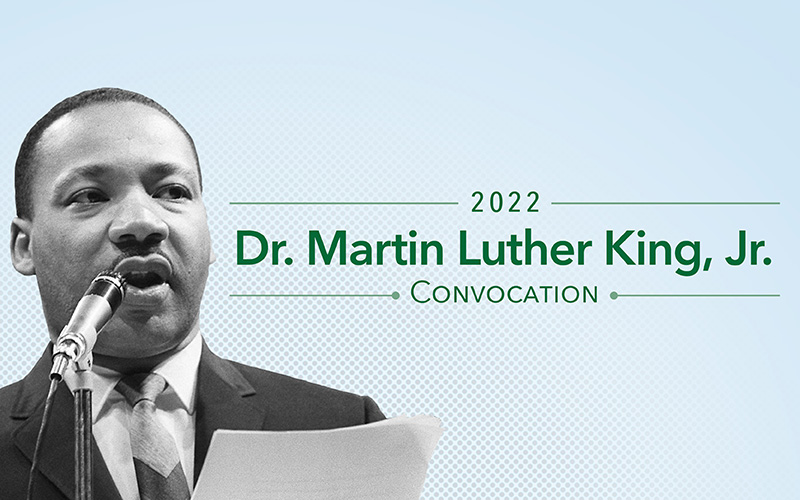 Beginning Monday, Jan. 10 and running thru Friday, Jan. 14, the indoor Peace Walk is available on all campuses and District Office. The week concludes with a virtual Convocation on Friday, Jan. 14 from 10-11:30 a.m. for all students, employees and community members.
Register now for the Convocation featuring keynote speaker OCC Director of Diversity, Equity, Inclusion and Justice (DEIJ) Kristina Marshall. Marshall is an award-winning DEIJ leader as well as national speaker and consultant on cultural competency and how to address the needs of diverse populations.
"During the Convocation, participants will not only celebrate and look at the life of Dr. Martin Luther King Jr. but also learn the significant role DEIJ has played in leadership throughout our communities," said Marshall. "It's important we treat each other well and do what's right. That's what DEIJ is all about. We want to be respectful and look at the different perspectives of every individual in our classrooms, teams and community."
For the first time, OCC's Peace Walk will be offered at every campus and District Office. Participants can take a self-guided walk to view posters depicting monumental moments in the life of Dr. Martin Luther King, Jr. during regular campus building hours at the following locations:
· Auburn Hills Campus: Starting in the Student Center near the Student Engagement area
· Highland Lakes Campus: Starting in Woodland Hall N (by the elevators near WH 110)
· Orchard Ridge Campus: Starting at K200
· Royal Oak Campus: Starting on the 2nd floor
· Southfield Campus: Starting on the 2nd floor Science Hall
· District Office: Starting in dining/break room
"Due to COVID, we are not able to have everyone together so this is a way for people to see the display at their leisure," Marshall said. "We will have notecards at the end for people to write about their experience and the significance of it."
For more information OCC's DEIJ webpage at https://www.oaklandcc.edu/diversity/default.aspx.
About OCC
Offering nearly 100 degrees and certificates, OCC is Michigan's largest multi-campus community college and No. 1 transfer institution in the state. The College provides academic, career training and enriching experiences, designed to empower students to reach their potential and enhance our community. More than 1 million students have enrolled in the College since it opened in 1965. A seven-person Board of Trustees governs OCC. Board members are elected on a non-partisan, at-large basis, serve as volunteers and are not paid. Mission statement: OCC is committed to empowering our students to succeed and advancing our community. Learn more at oaklandcc.edu.
###
Media Contact: Marketing & Communications | 248.341.2020 | contactus@oaklandcc.edu