Dr. Martin Luther King, Jr. delivered his celebrated "I Have a Dream" speech on August 28, 1968. In that speech, he stated the following: "I have a dream that one day this nation will rise up and live out the true meaning of its creed: We hold these truths to be self-evident, that all men are created equal."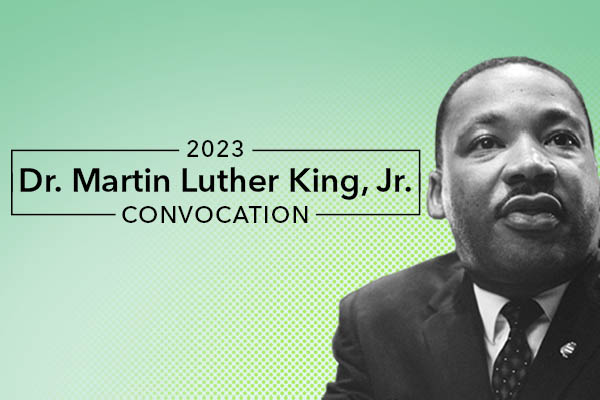 Fifty-four years later, OCC continues to celebrate his legacy and carry forward his vision with its annual Martin Luther King Jr. Convocation and involvement of students, employees and community. This year's event, "The Global Impact of Social Justice," will be held on Friday, Jan. 13 from 11 a.m.—noon. The keynote speaker is Carl E. James, PhD, who currently serves as the Jean Augustine Chair in Education, Community and Diaspora in the Faculty of Education at York University in Toronto. The event is sponsored by PNC Bank.
Share Your Dream
New for 2023, OCC's Convocation will feature messages of inclusion, equity and hope directly from the College community. In the spirit of King's "I Have a Dream" speech, the OCC's Office of Diversity, Equity, Inclusion and Justice (DEIJ) is collecting individual's dreams for the world. Fill out this short form and share your dream to engage and inspire others. These thoughts will be presented at the event and throughout the month of January.
Keynote Address
James will take the virtual stage for the highly anticipated keynote address. He is uniquely positioned to speak on the event topic as he is widely recognized for his research contributions in the areas of intersectionality of race with ethnicity, gender, class and citizenship as they shape identification/identity. His research explores the ways in which accessible and equitable opportunities in education and employment account for the lived experiences of marginalized community members, as well as the complementary and contradictory nature of sports in the schooling and educational attainments of racialized students.
Click here to register for the 2023 Convocation. Learn more about OCC's Office of Diversity, Equity, Inclusion & Justice at https://www.oaklandcc.edu/diversity/
About OCC 
Offering nearly 100 degrees and certificates, OCC is Michigan's largest multi-campus community college and one of the top transfer institutions in the state. The College provides academic, career training and enriching experiences, designed to empower students to reach their potential and enhance our community. More than 1 million students have enrolled in the College since it opened in 1965. A seven-person Board of Trustees governs OCC. Board members are elected on a non-partisan, at-large basis, serve as volunteers and are not paid. Mission statement: OCC is committed to empowering our students to succeed and advancing our community. Learn more at oaklandcc.edu. 
###
Media Contact: Marketing & Communications | 248.341.2020 | contactus@oaklandcc.edu