Making a Music Performance Worth Remembering
"You pile up enough tomorrows, and you'll be left with nothing but a bunch of empty yesterdays. I don't know about you, but I'd like to make today worth remembering." – The Music Man
The lights may be out at the Smith Theatre but that didn't keep Thomas Dennis' music program students from performing in the College's Music Student Showcase. Instead of standing on stage performing in front of a live audience, students found themselves in their bedrooms, basements and other venues to record their pieces on a phone or camera for a virtual performance.
And, it wasn't easy.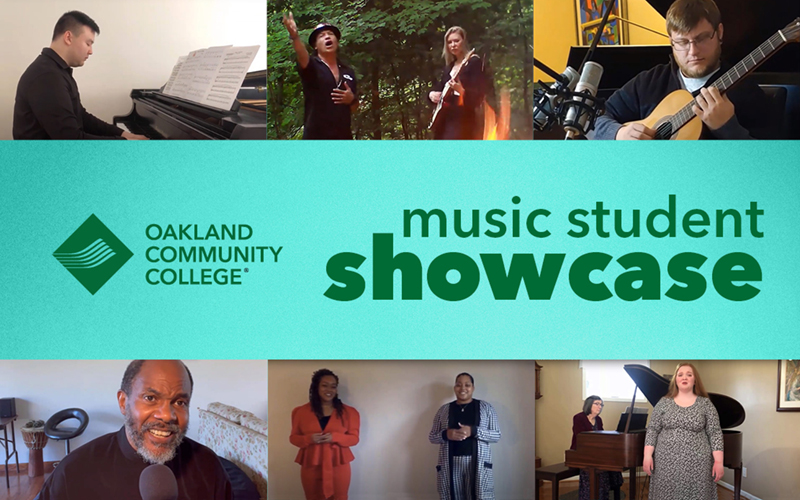 Zang Cheng had to move his bed and other furniture out of his bedroom to create a makeshift studio where he could record his music. The singer didn't have any equipment so he purchased a camera with a built in mic and then spent hours watching YouTube videos to learn how to edit. Vocal lessons on Skype with his instructor also proved to be challenging.
"There is a lag in time hearing the notes," said Cheng, who earned an Associate Degree in Music at OCC. "He would play the piano and those sounds come 2 or 3 seconds later. Such a delay over the internet made it difficult to sing on tempo on time. I learned to listen to his playing and tune out that lag. Adjusting to that was like learning a new skill."
For Dean DeFillipi, who played "Lagrima" on his guitar for the showcase, getting the perfect recording to submit was challenging. If he missed one note, he would have to start the recording all over again and sometimes that meant recording it 14 times in a row.
"The pressure is definitely on to make sure you do the piece justice and perfect for the recording," said DeFillipi, who received an Associates in Music degree from OCC. "When you play live, if you make a mistake, people forget about it by the time you are done with the piece but if you are recording it, you better make sure it is flawless because they can go back and watch it again."
For the love of music
"A lot of musicians have said they are depressed in this Pandemic. They are struggling because part of their love of music is interacting with other people and they are losing some of that enthusiasm since it's hard to practice when you don't have somewhere to go for rehearsal," said Dennis. "I'm impressed with the fact that under these circumstances, our students still put music together and put together good performances."
OCC's Music Student Showcase featured a variety of performers ranging from a classical pianist, to an electric guitarist to a violin duo. A few vocalists also were among the 17 students who performed.
"The Showcase added a whole new level of challenge for our students to create videos of their performances, but everybody stepped up and did a wonderful job."
Watch OCC's Music Student Showcase.
About OCC
Offering nearly 100 degrees and certificates, OCC is Michigan's largest multi-campus community college and No. 1 transfer institution in the state. The College provides academic, career training and enriching experiences, designed to empower students to reach their potential and enhance our community. More than 1 million students have enrolled in the College since it opened in 1965. A seven-person Board of Trustees governs OCC. Board members are elected on a non-partisan, at-large basis, serve as volunteers and are not paid. Mission statement: OCC is committed to empowering our students to succeed and advancing our community. Learn more at oaklandcc.edu.
###
Media Contact: Marketing & Communications | 248.341.2020 | contactus@oaklandcc.edu