Oakland County, in partnership with several regional educational institutions and community organizations, launched a new effort today to help Oakland County residents obtain a post-secondary degree or certification.
Partners include Oakland County Michigan Works!, Oakland Community College, Oakland University, Lawrence Technological University, Baker College, Oakland Literacy Council and others.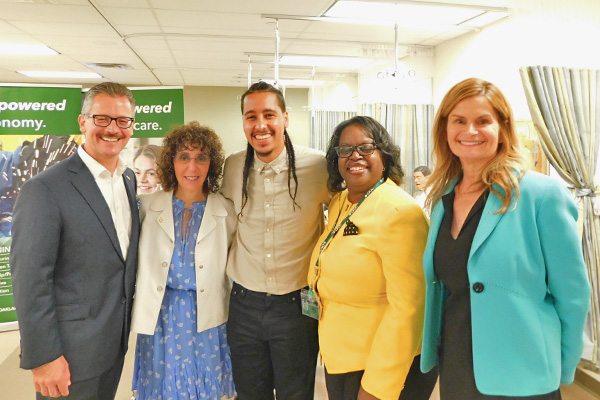 OCC Chancellor Peter Provenzano; Oakland University President Ora Hirsch Pescovitz; student Jared Barnett; OCC's Interim Dean of Health Professions Lynn Cherry; and Oakland County ​Chief Deputy County Executive Hilarie Chambers at the launch of the Navigators program.
Career and education navigators will help individuals find paths to meaningful careers, get into and complete college or training programs, and reduce obstacles to education such as the cost of books, registration fees, and childcare options. To connect with a career and education navigator, call 1-888-559-4360 or click on www.oakgov.com/Oakland80.

"This program targets Oakland County adults to help them open the door to new or better career opportunities," Oakland County Executive David Coulter said. "We identified the resources needed to launch this program and hired people who are uniquely qualified to connect students with the help they need to launch a successful career."
The career and education navigators are responsible for helping prospective students enter educational programs, including applying to post-secondary institutions, filing financial aid applications, accessing loan applications, transferring records, registering for classes, and helping tackle other barriers to success. Their work also includes intensive coaching and ongoing mentorship through graduation and beyond.
Career and Education Navigator Cal Talley said Oakland County residents who want to improve their career options, but may not be aware of the resources available, now have a partner in helping them achieve success.
"Oakland County's career and education navigators are here to support you as you take the next steps in gaining your degree or credential," he said. "From the application and enrollment process to student aid and support services like childcare, books, and transportation, our navigators will help you every step of the way in reaching your goals."
The career and education navigators will be located at the six Oakland County Michigan Works! Offices, Oakland Community College, Oakland University, the Oakland Literacy Council, and other partner sites around the county.
Oakland University President Ora Hirsch Pescovitz, M.D., whose campus will host a career and education navigator, said higher education translates into opportunity for individuals, their families, and communities.
"A college degree provides a person with more career options, upward mobility and significantly more earning potential," Hirsch Pescovitz said. "Higher education also has a direct and positive impact on the community, society, and economic development. The data is unequivocal – there's a direct correlation between education, quality of life and the health of our citizens and our economy."
The Career and education navigators, funded by the American Rescue Plan Act, are aligned with Oakland80, Oakland County's goal to achieve 80 percent of its residents obtaining a post-secondary degree or certification by 2030.
According to 2019 data from the Lumina Foundation, 59 percent of Oakland County's 679,000 working adults already have an advanced degree. This outpaces the state of Michigan, which has a rate of 49 percent. The U.S. average of people with college degrees is 52 percent. Oakland County recognizes more needs to be done to improve the pipeline of skilled workers. According to recent southeast Michigan labor market data from Emsi, there were 2,736 job postings in advanced manufacturing, 595 in construction, 2,622 in health care and 6,530 in information technology.
About OCC
Offering nearly 100 degrees and certificates, OCC is Michigan's largest multi-campus community college and one of the top transfer institutions in the state. The College provides academic, career training and enriching experiences, designed to empower students to reach their potential and enhance our community. More than 1 million students have enrolled in the College since it opened in 1965. A seven-person Board of Trustees governs OCC. Board members are elected on a non-partisan, at-large basis, serve as volunteers and are not paid. Mission statement: OCC is committed to empowering our students to succeed and advancing our community. Learn more at oaklandcc.edu.  
Media Contact: Marketing & Communications | 248.341.2020 | contactus@oaklandcc.edu