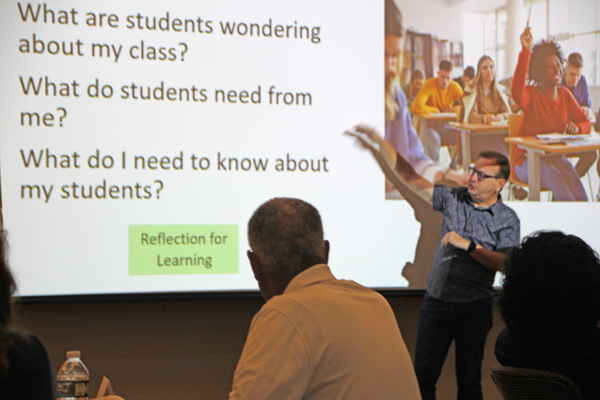 Faculty member Michael Robinson leads a session of the New Faculty Academy.
"As a new faculty member, I don't feel so new due to OCC's outstanding support for us. It simply feels like home."
This quote from new Spanish language faculty member Roxana Zuniga sums up the positive outcome she and 13 of her colleagues experienced participating in OCC's New Faculty Academy.
According to Marc Thomas, Dean of Teaching Excellence, the New Faculty Academy, which launched in Fall 2021, is one of the first major initiatives undertaken by the College's new academic Teaching and Learning Center (TLC).
"This Academy provides the foundation for continuous professional learning through the study of best practices in course design, classroom engagement and effective assessment," Thomas said. "New full-time faculty engage in a two-week experience before the start of classes in August of their first year, followed by in-person or Zoom meetings several times throughout their first year."
This year's Academy kicked off with 14 new full-time faculty in a variety of academic disciplines. While the Academy continues to focus on inclusive teaching and learning, additional emphasis on faculty putting themselves in students' shoes, sharing ideas among peers and implementing these new strategies in their classroom have been added to the academy rubric.
According to Academy faculty coordinators, Lisa Nemitz and Michael Robinson, the structured program helps new faculty integrate smoothly into teaching at OCC, but also provides opportunities for faculty to connect with their peers that can be very beneficial to collaboration and both faculty and student success.
"These new faculty members really learn from each other during the Academy, and often find new ideas on teaching from other faculty who teach something totally different, like the CAD instructor who learned a new teaching method from someone in the Medical Assisting program," Nemitz said.
Zuniga, who joined OCC after teaching at Wayne State University, said the program was instrumental in her transition because she had an opportunity to learn a lot about OCC and her new colleagues.
"As a new faculty member at OCC, I got to meet many administrators, staff and other OCC instructors. And the presenters who participated in the New Faculty Academy training were all phenomenal," she said.
Melvin Chapman, who teaches psychology on the Orchard Ridge campus, had been an adjunct at OCC for eight years prior to his current full-time appointment. Even though he taught at OCC for nearly a decade, he found the New Faculty Academy to be extremely beneficial.
"Although there are orientation and training opportunities for adjuncts, the Academy goes far beyond what can be offered to those who are here only on a part-time basis," Chapman said. "In addition to the wealth of teaching and learning information, and the information regarding the College itself provided by program administrators, this experience provided an opportunity for participants to work together as a cohort and share many different ideas, practices and methodologies that will further enhance our respective teaching abilities."
For more information on OCC's New Faculty Academy, contact Marc Thomas or Lisa Nemitz.
###
About OCC
Offering nearly 100 degrees and certificates, OCC is Michigan's largest multi-campus community college and one of the top transfer institutions in the state. The College provides academic, career training and enriching experiences, designed to empower students to reach their potential and enhance our community. More than 1 million students have enrolled in the College since it opened in 1965. A seven-person Board of Trustees governs OCC. Board members are elected on a non-partisan, at-large basis, serve as volunteers and are not paid. Mission statement: OCC is committed to empowering our students to succeed and advancing our community. Learn more at oaklandcc.edu. 
 
Media Contact: Marketing & Communications | 248.341.2020 | contactus@oaklandcc.edu