Oakland Community College has appointed Christina "Tina" Kostiuk to Vice Chancellor for Administrative Services and Christina Ayar to Vice Chancellor for External Affairs.
Kostiuk and Ayar bring deep experience and strong leadership skills to the exceptional department teams already in place at the College.
Vice Chancellor for Administrative Services
Kostiuk is transitioning from her current post as assistant superintendent for Finance and Operations and former interim superintendent at Bloomfield Hills Schools. She is an experienced financial leader respected for her understanding of critical issues and incorporating diversity in decision making. Prior posts include serving in the Port Huron Area School District as executive director for Business and Finance and at Plante Moran with progressive experience including Assurance Partner.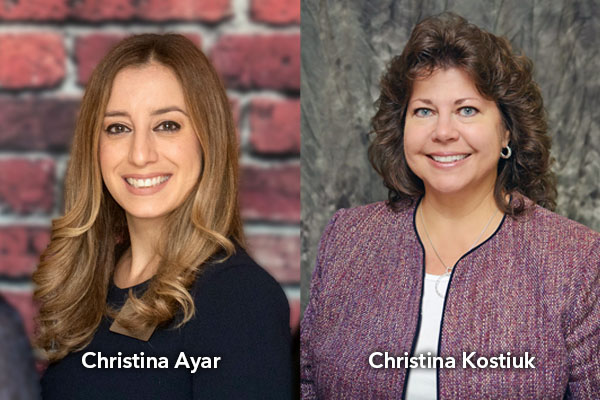 "Since I began my auditing career over 34 years ago, I have been involved in almost all facets of service to educational institutions," Kostiuk said. "I am passionate about all students deserving a chance to successfully pursue their own passions through education, especially in our ever-changing world."
Kostiuk begins her new role on Feb. 20 as Bobbie Remias retires effective March 31. Kostiuk will oversee the College's Financial Services, Budget and Planning, Physical Facilities, Financial Aid, and Purchasing and Auxiliary Services departments.
"Tina brings tremendous leadership and first-hand experience in budgeting, finance, risk management and facilities," said Chancellor Peter Provenzano. "Her active participation with school finance reform, understanding of issues at the statewide level and relationships with K12, provide the College with keen insights as we continue to define the future of higher education."
Kostiuk is a Certified Public Accountant who received a bachelor's degree in business administration from Wayne State University. Tina is a Leadership Macomb Graduate Class IV. She is the recipient of the Michigan School Business Officials Chief Financial Officer Certification and Oakland County Business Administrator of the Year Award in 2014.
Vice Chancellor for External Affairs
Ayar joins the College on Feb. 27 as Vice Chancellor for External Affairs from her post as Director of the Macomb Community College Foundation. This position replaces Vice Chancellor for Advancement held by Daniel Jenuwine, who accepted an opportunity outside of the College.
In her new position, Ayar will serve as senior officer for fund development, community relations and government affairs and provide executive leadership for the OCC Foundation.
"I see OCC as a real opportunity to make a difference and enhance the good work already being done by the advancement and community relations teams," she said.
Ayar brings with her both university and community college fundraising experience. As Macomb Community College Foundation's chief fundraiser, Ayar worked to cultivate donors, manage a large prospect and donor portfolio, and oversee all Macomb Community College Foundation restricted and endowed scholarship and program funds.
Prior to serving at Macomb Community College, she was a Development Officerin Annual Giving at Wayne State University and Director, Annual Givingat the University of Michigan-Dearborn.
Provenzano said the College was looking for a visionary leader in philanthropy with extraordinary interpersonal skills and relationship building.
"Christina's positive energy and successful community college experience in our region will take OCC to the next level, cultivating long-term donors and friends to OCC's fundraising efforts," he said.
Ayar earned a bachelor's degree in psychology and master's degree in agency counseling from Wayne State University. She is a Michigan Schools and Government Credit Union Board Member and Leadership Macomb Graduate Class XXII.
About OCC   
Oakland Community College offers nearly 100 degrees and certificates programs with the resources students need to be successful and advance our community. As a top transfer institution, OCC offers one of the state's most affordable tuition rates and flexibility in scheduling with face-to-face and online options. The College is nationally recognized for its high-demand career training with expert faculty in their fields. More than 1 million students have enrolled in the College since it opened in 1965. Learn more at  oaklandcc.edu.  
### 
 Media Contact: Marketing & Communications | 248.341.2020 | contactus@oaklandcc.edu