Google 'secrets to success for college students with disabilities' and you'll get 'about 77 million results.' But if you ask one OCC alum, he'll narrow down the answer as he shares his own journey to pursue a college education.
As a baby, born in Melbourne, Australia, Nicholas Ritchie's parents were concerned with his developmental milestones. He was non-verbal and did not interact with others. At age 2 and a half, he was diagnosed with autism.
Just a short time later, his formal education got underway as he started at a school specializing in helping children with autism. With time and a great deal of support, his teachers determined he had developed the skills necessary to cope in a general education environment. Ritchie transitioned to a conventional school.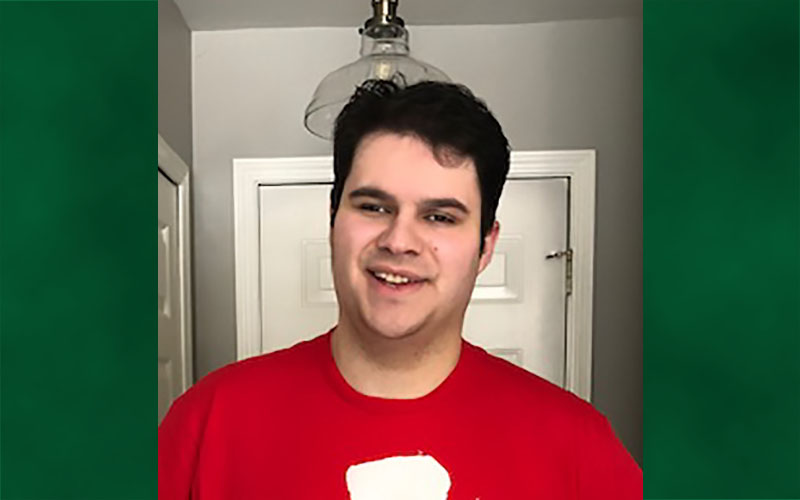 OCC Alum Nicholas Ritchie
However, his challenges mounted when, at age 7, he developed juvenile rheumatoid arthritis. In addition to joint swelling and stiffness, Ritchie's condition included uveitis, a serious complication causing eye inflammation and lack of vision in his right eye. His poor eyesight meant that school became a greater struggle in terms of reading and coping.
And yet, he never gave up. Ritchie loved to learn new things, draw and read – despite the social struggles that often come with autism.
"At school, my autism made it hard for me to properly interact with other children my age," he said. "In fact, I still find social interaction difficult as people can be unpredictable and hard to read at times. However, I think I have developed ways to cope and do my best to be a kind and respectful person."
Raised in Michigan, Ritchie's education continued. On the advice of his teachers at Rochester Adams High School, he enrolled at Oakland Community College. He says it was a great decision for many reasons.
"I don't think I would have been ready to attend an out-of-state college or a university because I still hadn't gained the necessary independence to survive on my own. I also really had no idea what I wanted to study or what I wanted to do with my life, which was a major factor," he said.
Getting the support and guidance he needed at OCC
Ritchie said he was hoping to gain basic skills at OCC to get a job and, if he decided to go further, continue on with his education. He found what he was looking for thanks to numerous faculty and staff who helped set him on a course to succeed.
OCC Access Coordinator Mary Jo Lord was instrumental in facilitating the accommodations he was eligible for and that best suited his needs. For that, Ritchie is very thankful.
Douglas Riddering, who Ritchie describes as a great counselor, was friendly and patient with him and provided great advice that was relevant to his needs. Riddering says Ritchie was a great student to work with.
"Nicholas's curiosity and eagerness to try new subjects of knowledge was invigorating as I shared various possibilities," Riddering said. "He showed so much pride when he spoke of his success in subjects that he never thought were possible before."
Ritchie also enrolled in Professor Mary Moon's Interpersonal Communication and Intercultural Communication classes. These courses opened his eyes to understanding how humans communicate and a greater understanding of his own communication issues. This gave him the idea to study Anthropology as a possible option.
In his last semester at OCC, Ritchie enrolled in a Career Planning course with Beth Garlock, faculty counselor, which he believes really helped him to identify his passions, a career path and a focus on next steps.
"I have always loved learning about animals. This course helped me map out a plan that could possibly allow me to pursue a career in Zoology."
Advice for other students with disabilities
While Ritchie was very nervous about going to college, his feelings changed when he enrolled at OCC.
"OCC is such a friendly and relaxed environment that I did not feel anxious or stressed about attending – apart from doing essays and exams, of course! This experience has given me the incentive to want to continue to study and I liked being able to choose subjects that gave me flexibility to explore different pathways."
For students with disabilities, Ritchie encourages them to not give up their dreams and pursuit of a college education.
His secret to success: "Learn to self-advocate and do the best you can. In fact, my life motto is 'I'm never giving up'."
Ritchie will be moving back to Melbourne to continue his education, pursue his dreams and study Zoology.
About OCC
Offering nearly 100 degrees and certificates, OCC is Michigan's largest multi-campus community college and No. 1 transfer institution in the state. The College provides academic, career training and enriching experiences, designed to empower students to reach their potential and enhance our community. More than 1 million students have enrolled in the College since it opened in 1965. A seven-person Board of Trustees governs OCC. Board members are elected on a non-partisan, at-large basis, serve as volunteers and are not paid. Mission statement: OCC is committed to empowering our students to succeed and advancing our community. Learn more at oaklandcc.edu.
Media Contact: Marketing & Communications | 248.341.2020 | contactus@oaklandcc.edu