OCC Chancellor Peter Provenzano, Jr. is part of a respected group of business and community leaders who will advise Oakland County on how to leverage its $244 million share of President Joseph R. Biden's American Rescue Plan (ARP) to bring about short-term recovery and long-term transformation.
Many members of Oakland County Executive Dave Coulter's 2021 COVID-19 Economic Recovery Task Force served on last year's COVID-19 Economic Stabilization and Recovery Task Force, including Provenzano, who served on the leadership team.
Coulter is reconvening and expanding the task force, asking the 31 volunteers to share their thoughts, experiences, and expertise on where the county is in its recovery from the pandemic and what needs to be accomplished in the coming months to ensure a full recovery.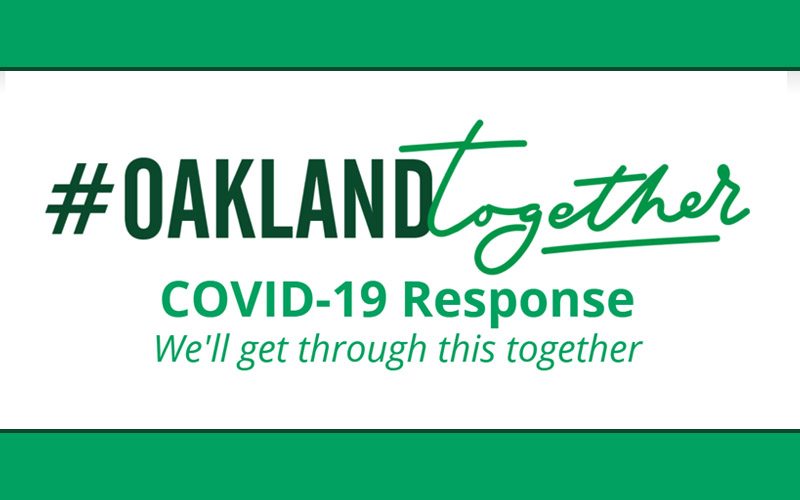 "Our first priority for this funding from the American Rescue Plan has to be continuing our fight against the coronavirus pandemic and ensuring economic recoveries," Coulter said in a news release. "But we also will have the opportunity to take on some transformational projects that will help improve the lives of our residents and businesses. This group of advisors can provide invaluable insight into the needs in the community."
The 2021 COVID-19 Economic Recovery Task Force will hold their first meeting on Monday, April 19 via Zoom. During the meeting, they will review current economic and community data, ARP funds, and begin a conversation of important indicators for Oakland County's future.
The task force includes representatives from education, foundations, local government, construction, restaurants, labor, health care and business and two members of the Oakland County Board of Commissioners. Task force members are:
Chris Barnett, Supervisor, Orion Township
Deb Brinson, CEO, Honor Community Health
Jaimie Clayton, President/CEO, Oakland Family Services
Dr. Wanda Cook-Robinson, Superintendent, Oakland Schools
Eric Dietz, Regional President, Huntington National Bank
Mike Fournier, Mayor, Royal Oak
Susan Harding, CEO, OLSHA
Sloan Herrick, COO, Global Detroit
Dr. Darienne Hudson, President/CEO, United Way Southeastern Michigan
Thomas Kelly, Executive Director/CEO, Automation Alley
John Kerr, Director Government Affairs, Denso
Alan Kiriluk, Chairman, Kirco Management
Kate Knight, Director, Farmington DDC
Gerald Lang, Vice President, UAW Local 5960
Dana Lasenby, CEO, OCHN
Grace Lee, President/CEO, Ashford Connex
Martin Manna, President, Chaldean Chamber of Commerce
Dan Pederson, President, UFCW
Dr. Ora Pescovitz, President, Oakland University
Peter Provenzano, Jr., Chancellor, Oakland Community College
Frank Rewold, President/CEO, Frank Rewold & Sons
Bill Roberts, Proprietor, Roberts Restaurant Group
Mike Spisz, Commissioner, Board of Commissioners
Shannon Striebich, CEO, St. Joseph Mercy Oakland
Rachel Tronstein, President, Gardner White
Sean Werdlow of Eminence Partners
Barbara Whittiker, President, BW Limited LLC
David Woodward, Chairperson, Board of Commissioners
Christian Wuerth, Manager, Village of Milford
Patricia Yulkowski, CEO, Total Door
About OCC
Offering nearly 100 degrees and certificates, OCC is Michigan's largest multi-campus community college and No. 1 transfer institution in the state. The College provides academic, career training and enriching experiences, designed to empower students to reach their potential and enhance our community. More than 1 million students have enrolled in the College since it opened in 1965. A seven-person Board of Trustees governs OCC. Board members are elected on a non-partisan, at-large basis, serve as volunteers and are not paid. Mission statement: OCC is committed to empowering our students to succeed and advancing our community. Learn more at oaklandcc.edu.
###
Media Contact: Marketing & Communications | 248.341.2020 | contactus@oaklandcc.edu