A new transfer articulation agreement between Oakland University and Oakland Community College will create a more streamlined, cost-efficient path for students to complete associate and bachelor's degrees in graphic design.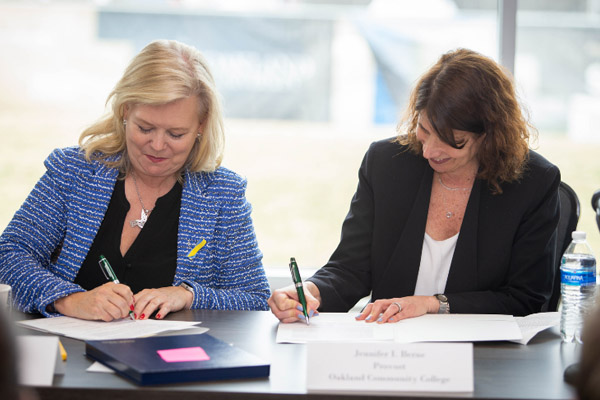 Britt Rios-Ellis, OU Provost and Executive Vice President for Academic Affairs, and Jennifer Berne, OCC Provost, sign the articulation agreement during a ceremony at OU.
The agreement increases the number of transferable graphic design credits from 16 to 20, saving students money while encouraging them to complete OCC's associate degree. Students will then only have 44 credits left to complete their bachelor's degree at OU.
The agreement is effective through November 30, 2026 and is subject to review for continuation after five years.
"I am so glad that we have been able to continue to expand our partnership with Oakland Community College, by offering students a unique opportunity to complete an associate degree in graphic design and then transition directly into the bachelor's degree program here at OU," said Shane Lewis, OU's director of Undergraduate Admissions. "These seamless pathways continue to help students achieve their educational goals, while preparing them to make a positive impact on the workforce."
Oakland University also offers the Transfer Admission Guarantee (TAG) to Oakland Community College transfer students. This also means easier access for the region's state college students, many of whom are the first generation in their families to seek higher education. For more information about TAG, visit oakland.edu/transfers.
### 
 
About OCC 
Offering nearly 100 degrees and certificates, OCC is Michigan's largest multi-campus community college and No. 1 transfer institution in the state. The College provides academic, career training and enriching experiences, designed to empower students to reach their potential and enhance our community. More than 1 million students have enrolled in the College since it opened in 1965. A seven-person Board of Trustees governs OCC. Board members are elected on a non-partisan, at-large basis, serve as volunteers and are not paid. Mission statement: OCC is committed to empowering our students to succeed and advancing our community. Learn more at oaklandcc.edu. 

Media Contact: Marketing & Communications | 248.341.2020 contactus@oaklandcc.edu