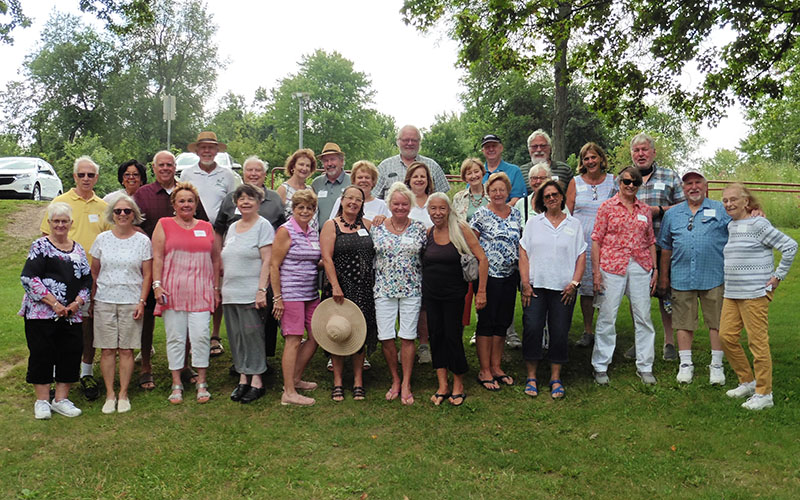 OCCARP Members
OCC retirees looking for a way to stay connected and explore a variety of educational and social events find the answers in Oakland Community College Association of Retired Personnel (OCCARP).

OCCARP board chair and former OCC faculty member Bob Zemke says it's a great organization for OCC retirees to continue their friendships and connections with former coworkers and take advantage of many other enjoyable benefits.

"As retirees, we have worked many years to reach this stage of our life," he said. "OCCARP offers an opportunity to socialize with our OCC community, continue to support OCC students and engage in a variety of enrichment opportunities."

Zemke, who spent his entire 40-year career at OCC, including serving as department chair of Hospitality, said OCCARP is the oldest community college organization of its kind in Michigan. Since 1999, OCCARP has proudly donated more than $26,000 to the OCC Foundation, sponsoring 49 students through the OCCARP Scholarship.

In addition to camaraderie and connections, OCCARP members may receive a tuition benefit for classes at OCC and/or professional enrichment funds for members to attend an activity outside the college. Other benefits include:

-50% discount on two tickets for any OCC-sponsored cultural event
-Use of OCC physical education facilities with the same conditions/costs required of full-time employees
-Informal luncheons
-Social activities
-Seminars and workshops
-Attendance at commencement with cap and gown provided by OCC
-Access to campus libraries, including computers

With COVID-19 halting social activities the past couple of years, Zemke says the board is pleased to offer a wide variety of events for the coming year. The Zekelman Holocaust Center tour, Motown Museum, Van Gogh DIA exhibit and Cook's Dairy Farm are just a few of the many activities planned.

Membership costs $20 per year or $30 for a 2-year enrollment. To learn more visit the OCCARP web page.
###
About OCC
Offering nearly 100 degrees and certificates, OCC is Michigan's largest multi-campus community college and No. 1 transfer institution in the state. The College provides academic, career training and enriching experiences, designed to empower students to reach their potential and enhance our community. More than 1 million students have enrolled in the College since it opened in 1965. A seven-person Board of Trustees governs OCC. Board members are elected on a non-partisan, at-large basis, serve as volunteers and are not paid. Mission statement: OCC is committed to empowering our students to succeed and advancing our community. Learn more at oaklandcc.edu.
Media Contact: Marketing & Communications | 248.341.2020 contactus@oaklandcc.edu