Oakland Community College (OCC) and Oakland University (OU) signed a new transfer articulation agreement that will provide OCC students who earn a Pre-Engineering associate degree an easier transfer to OU to earn a bachelor of science in Engineering.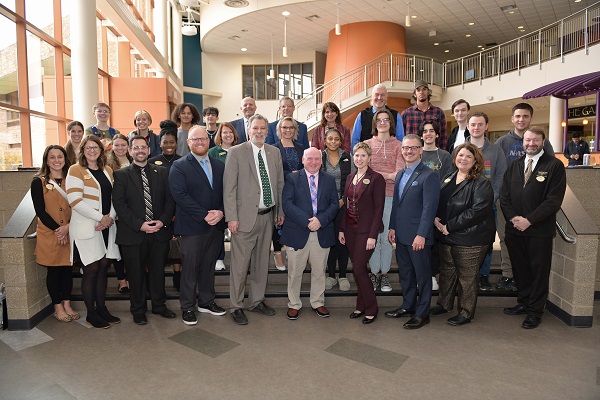 Pre-engineering students join representatives from OCC and OU to celebrate the signing of the engineering transfer agreement.
OCC students who complete the associate degree in Pre-Engineering can earn a bachelor of science degree at OU in Computer Engineering, Electrical Engineering, Industrial and Systems Engineering or Mechanical Engineering.
OU President Ora Hirsch Pescovitz said this articulation agreement for Engineering is designed to help OCC students have a smooth transition to OU while minimizing credit loss and be able to continue their pursuit of a bachelor's degree close to home. 
 "Today's engineering agreement builds on our dynamic relationship with OCC, a partnership that facilitates students' transition toward the completion of a bachelor degree," said Hirsch Pescovitz. "We are extremely proud of our work with OCC, and believe we are creating a model of cooperation that further develops the regional talent pipeline and leads to building the Michigan economy."
In addition to the new Engineering agreement, OCC and OU also have transfer agreements covering a number of OCC academic degree programs that allows transfer students a smoother pathway to earn an OU bachelor's degree in Applied Health Science - Radiology Technology Leadership, Interdisciplinary Studies, Graphic Design and Human Resource Development.
"Oakland University is one of the top transfer destinations for our students, and we have a number of articulation agreements with OU to make it easier for our students to earn a bachelor's degree in a cost-effective and timely manner," said OCC Chancellor Peter Provenzano. "We look forward to our continued partnership to add even more transfer agreements in the future to help our students reach their academic goals."
The OCC-OU Engineering transfer agreement runs through Oct. 31, 2028.
About Oakland University
Oakland University is a doctoral, Carnegie Classification R2 "High Research Activity" university located in Oakland and Macomb counties, Michigan. The main campus is located on 1,443 acres of scenic land in the Southeast Michigan cities of Rochester Hills and Auburn Hills. The university also maintains program space at the University Center in Clinton Township. Oakland University offers bachelor's degrees, graduate degrees and certificate programs and is organized into the College of Arts and Sciences with a School of Music, Theatre and Dance, the Oakland University William Beaumont School of Medicine and the Schools of Business Administration, Education and Human Services, Engineering and Computer Science, Health Sciences, Nursing, and Honors College. The rich campus atmosphere is complete with residence halls, Greek life, Division I athletics and more than 300 student groups that lend to the total college experience. Learn more at www.oakland.edu.
About OCC
Oakland Community College offers nearly 100 degrees and certificates programs with the resources students need to be successful and advance our community. As a top transfer institution, OCC offers one of the state's most affordable tuition rates and flexibility in scheduling with face-to-face and online options. The College is nationally recognized for its high-demand career training with expert faculty in their fields. More than 1 million students have enrolled in the College since it opened in 1965. Learn more at  oaklandcc.edu.
###
Media Contact: Marketing & Communications | 248.341.2020 | contactus@oaklandcc.edu