Release courtesy of Oakland County Sheriff's Department
The promise of a brighter future will be offered to some Oxford Schools students and local families thanks to the Oakland County Deputy Sheriff's Association (OCDSA)/Family Benevolent Fund.
Through the generosity of its membership and various local businesses and donors, the OCDSA/Family Benevolent Fund is providing a new memorial scholarship endowment fund to support Oxford students in achieving their dreams.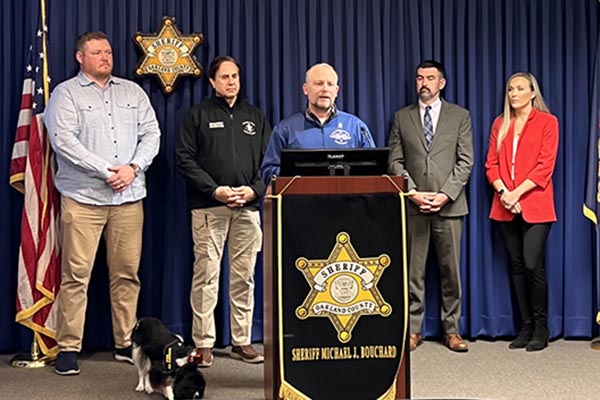 Oakland County Sheriff Michael Bouchard unveiled the Oxford High School Memorial Scholarship Fund to benefit students who were enrolled in the Oxford School District on Nov. 30, 2021, the day four students were fatally shot, and six other students and a teacher were wounded.
Five scholarships will be awarded in April 2023 at Oxford High School during its awards ceremony. Students will be able to apply through Oakland Community College for 2024.
In addition, the Sheriff also announced the OCDSA/Family Benevolent Fund adopted 12 families in need for its inaugural Christmas Family Celebration.
"It is inspiring to see after a tragedy where we have seen the worst in humanity, to watch the rise of the best in humanity that seeks out ways to uplift and support people in these terrible moments," Bouchard said during a news conference at the Sheriff's Office in Pontiac. "I am proud of our team, and all who contributed to this effort to brighten not just the holiday, but the future for a number of families."
Providing hope and support for students for years to come
The scholarship was created to benefit students enrolled in the Oxford School District using more than $24,000 raised through the sale of Oxford Strong pins to support the scholarship program.
Beginning in Winter 2023, a student enrolled in any school in the Oxford district on Nov. 30, 2021, is eligible to apply for a scholarship to attend Oakland Community College. The student must graduate from Oxford High School.
"We are grateful to our Oakland County Deputy Sheriff's Association partners for providing generous and long-standing support to our students and community," said OCC Chancellor Peter Provenzano. "This new scholarship provides not only financial assistance, but hope. The support that students receive from their own community instills a greater sense of belonging knowing others believe in them."
A merrier Christmas is in store for a dozen local families
Twelve local families were identified by school resource Deputies and CARE House of Oakland County. One family receiving assistance recently moved to Rochester Hills after being displaced from their home in Ukraine. The families will be provided with a holiday meal from local restaurants, gifts and gas cards. It is the first time the Family Benevolent Fund has sponsored families for Christmas.
In making the announcement, Bouchard was joined at a news conference by members of the OCDSA Family Benevolent Fund including its president, Detective Rich Knodel; Blythe Tyler, president, and CEO of CARE House; a representative from Great Oaks C.C.; Eric Lofquist, director of development/Oakland Community College Foundation; and T.J. Lang, a former member of the Green Bay Packers and one-time Detroit Lions player.
"Our board wanted to do something to impact families in Oakland County this holiday season," Knodel said. "We're grateful for Sheriff Bouchard's assistance and the response from our donor's was truly humbling. They gave without hesitation. We could not have done this without everyone's help. Two of our biggest donors were Great Oaks Country Club and T.J. Lang."
The Family Benevolent Fund allocated more than $14,000 in total for the families, Knodel said.
The OCDSA Family Benevolent Fund has supported a variety of causes such as making mortgage payments for paying for medical devices for those in financial distress.
In October, the fund purchased a mini-electric patrol car for a 3-year-old White Lake Township boy who has cancer. A long line of police and emergency vehicles – lights flashing and sirens blaring – delivered the gift, much to the delight of the amazed boy and his parents.
"We want to thank all those who have supported us this year," Knodel said.
About OCC
Offering nearly 100 degrees and certificates, OCC is Michigan's largest multi-campus community college and one of the top transfer institutions in the state. The College provides academic, career training and enriching experiences, designed to empower students to reach their potential and enhance our community. More than 1 million students have enrolled in the College since it opened in 1965. A seven-person Board of Trustees governs OCC. Board members are elected on a non-partisan, at-large basis, serve as volunteers and are not paid. Mission statement: OCC is committed to empowering our students to succeed and advancing our community. Learn more at  oaklandcc.edu. 
###
Media Contact:  Marketing & Communications | 248.341.2020 | contactus@oaklandcc.edu