More students are landing jobs in the automotive industry as Oakland Community College works to increase its business partnerships with area automakers and parts suppliers.
OCC student Olivia Parker was the latest example after a meeting with a representative from Mopar Career Automotive Program (CAP), led to a new job at Suburban Chrysler, Dodge, Jeep Ram of Farmington Hills. Mopar CAP - offered through automaker FCA - provides training and links potential auto service students with area dealerships.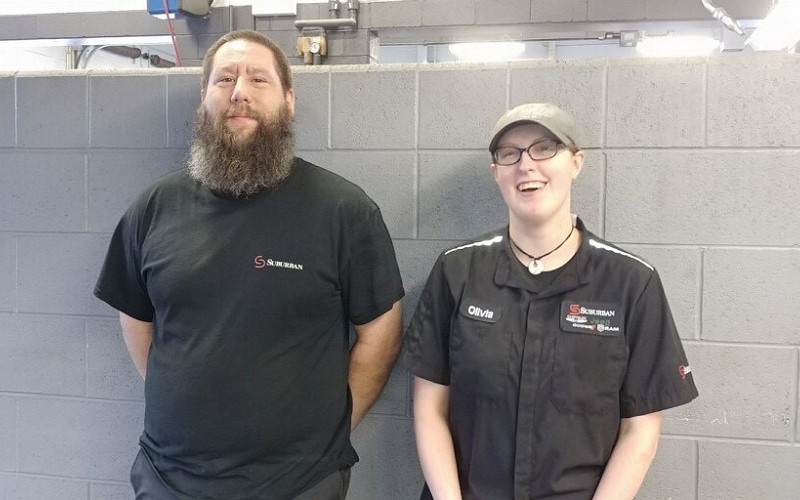 OCC student Olivia Parker (r) with her supervisor at The Suburban Collection
Parker, who is halfway through her automobile servicing degree program participating in the Mopar CAP program, arrived early at a Collision and Repair Education Foundation job fair recently sponsored by OCC. While there, she began talking to Mopar CAP representative Elizabeth Harpster as she was setting up for the fair.
"Making connections is what a job fair is all about, and many times those connections happen in unexpected ways," said Elizabeth Harpster, a Mopar CAP representative. "Olivia made a positive impression with a series of seemingly inconsequential moments – arriving early, volunteering to help, striking up a conversation, steering the conversation toward her career aspirations. It was all very impressive."
Harpster passed Parker's resume to Mark Williams, The Suburban Collection's talent acquisition specialist- Fixed Operations. The Troy-based Suburban Collection operates 54 dealerships throughout the U.S. and Canada and employs more than 3,000 people.
"Olivia is an impressive, career-oriented student and she's doing exceedingly well in her position with us at Suburban Chrysler Dodge Jeep Ram of Farmington Hills," Williams said. "We expect great things from her as she continues her OCC studies and working with our team."
Parker is the only female working in her department and said she appreciates the practical link between her OCC coursework and her daily responsibilities at Suburban Chrysler Dodge Jeep Ram of Farmington Hills.
"I've always enjoyed working on vehicles; it is my passion," Parker said. "It was important to me that I link that passion to formal, hands-on education. OCC provides me that option. I know that sometimes job fairs and events can be awkward and intimidating, but just get out there and take advantage of all these ways OCC offers to meet potential employers."
Jolene Chapman, OCC's dean of Engineering, Manufacturing & Industrial Technologies, agrees.
"Olivia's success story is just one of many demonstrating the employability skills our students learn and hone, the productive relationships OCC fosters with our corporate and business partners, and the tangible benefits of networking," she said.
About FCA

Fiat Chrysler Automobiles (FCA) is a global automaker that designs, engineers, manufactures and sells vehicles in a portfolio of exciting brands, including Abarth, Alfa Romeo, Chrysler, Dodge, Fiat, Fiat Professional, Jeep®, Lancia, Ram and Maserati. It also sells parts and services under the Mopar name and operates in the components and production systems sectors under the Comau and Teksid brands. FCA employs nearly 200,000 people around the globe. For more details regarding FCA (NYSE: FCAU/ MTA: FCA), please visit www.fcagroup.com.
About Mopar® CAP
Mopar® CAP provides future generations a competitive edge and aim to create the most highly-skilled service technicians in the auto industry. We do this by combining classroom instruction from certified FCA US LLC instructors and valuable hands-on experience. Mopar® CAP was established in 1984 to meet the ever-changing needs of the auto industry, and the demand has never been greater. With the Mopar® CAP curriculum available at approximately 100 schools, we are supporting thousands of Chrysler, Dodge, Jeep®, Ram, FIAT® and Alfa Romeo dealerships nationwide with their tech recruitment efforts. For more information visit www.mopar.com.
About OCC
Offering nearly 100 degrees and certificates, OCC is Michigan's largest multi-campus community college and No. 1 transfer institution in the state. The College provides academic, career training and enriching experiences, designed to empower students to reach their potential and enhance our community. More than 1 million students have enrolled in the College since it opened in 1965. A seven-person Board of Trustees governs OCC. Board members are elected on a non-partisan, at-large basis, serve as volunteers and are not paid. Mission statement: OCC is committed to empowering our students to succeed and advancing our community. Learn more at oaklandcc.edu.
###
Media Contact: OCC Marketing & Communications | 248.341.2020 | contactus@oaklandcc.edu