This article from Velocity magazine is reposted with permission from Eastern Michigan University.
If there's such a thing as a modern renaissance woman, you'd have a hard time finding a better example than Pam Jackson (MA80, MS00).
At the high school, collegiate and university levels, Jackson has taught algebra, statistics, applied calculus, finite mathematics, construction building systems and materials, construction management, and concrete technology. She's been an academic program coordinator, a department chair, and an interim dean.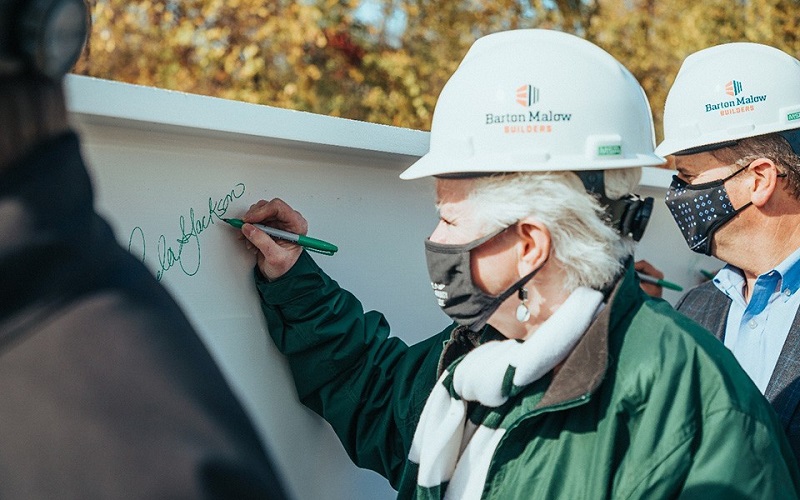 EMU alumna Pam Jackson, Secretary of the OCC Board of Trustees, signs a steel beam being used in the construction at a ceremony on the OCC Auburn Hills campus Oct. 21, 2020.
As the owner of a construction and construction consulting firm, Jackson has renovated apartments for homeless veterans, restored historic properties, and worked with various cities and academic institutions on high-profile projects.
Jackson reached a career pinnacle this year when she became chair of the Oakland Community College (OCC) Board of Trustees, on which she has served since 2016. And as a construction consultant with OCC, she is working on three separate multi-million dollar campus projects.
In her spare time—if you can believe she has any—she gives poetry readings and creates glass etchings for gallery exhibits. She even pursued a pilot's license.
"I'm still in the process of becoming," says Jackson, 66, a resident of Commerce Township. "Friends ask me when I'm going to retire. But to sit down and do nothing is out of the question. I'll slow down when I'm 99."
From music to math
Even as a youngster, Jackson had disparate interests. At age 4, she read sheet music and played the accordion. Her father, an automotive designer, taught her how to use a slide rule.
In high school, Jackson gravitated to playing flute. When she enrolled at Western Michigan University in 1973, she considered studying music but opted instead for mathematics despite the challenges in entering what was then a male-dominated field.
"With a math degree, I thought I'd have a better chance at getting a high school teaching position," Jackson says. "As a woman, I was always being challenged despite my aptitude. But I recall an occasion when I made a class presentation about teaching high school math. Afterwards, my professor took me aside and said 'you're going to be a great math teacher someday.' That little spark pushed me forward."
From 1977 to 1983, Jackson taught math at high schools in West Bloomfield and White Lake. Seeking to advance in her field, she enrolled in EMU's master's program in Mathematics in 1979. As a single parent working full-time, she earned her degree in a year and a half.
"There were about four women in Eastern's math program," Jackson says. "The professors always seemed to ask tougher questions of us than the guys. But we made it through."
Afterwards, Jackson began a 31-year career teaching mathematics at Oakland Community College.
"I enjoyed getting people interested in math who were initially afraid of it," Jackson says. "I would create amusing analogies to make my students laugh and help them relate to the math problems. But once they understood the concepts, I brought the lesson back to traditional math constructs."
Building a second career
During a brief layoff period while teaching high school, Jackson got a builder's license, formed a construction company and began doing home renovations. She says helping her dad with various home projects as a young girl instilled her love for construction.
Once again, Jackson competed in a field dominated by men.
"I recall applying for a building permit and the city clerk said in a condescending tone, 'Oh, how nice of you to bring these documents in for your boss.' I replied, 'I am the boss—I'll see you on the job site.'"
Jackson set those pursuits aside while studying for her master's. But when OCC asked if she could create a cost-analysis document for a campus building project, the spark returned.
"I noticed the contractors OCC hired weren't following the blueprints properly," Jackson says. "I volunteered my services and helped OCC save a lot of money."
She returned to Eastern and earned a master's degree in Construction Management in 2000. (The Construction Management program is part of EMU's GameAbove College of Engineering and Technology.)
"I was one of about three female students in the program—and one of the older students," Jackson says. "Once the guys learned about my construction background, they wanted me to join their group projects. They treated me as an equal.
"My education at Eastern not only introduced me to new technologies, it also gave me more credibility in the construction field and sharpened my presentation skills. My degree has taken me further than I could ever have imagined."
After completing her studies, Jackson developed a construction management program and began teaching construction courses at OCC. From 2001-02, she was associate professor of Construction Management at Eastern and acted as liaison between the OCC and EMU construction management programs through 2006. She also formed a construction consulting firm that specializes in home restorations and renovations.
"I don't consider myself one of the guys—I'm just a knowledgeable person doing construction," Jackson says. "The field has really opened up to women over the past 20 years. There's no whistling on the job site anymore. Workers today are much more willing to treat people equally and work together to get the job done."
After serving as interim dean of Academic and Student Services at OCC, Jackson followed her academic administration interests and earned a PhD in Educational Leadership and Policy Studies at Wayne State University in 2013. This led to her involvement with the OCC Board of Trustees.
"I'm overwhelmed by the opportunities I've had to make career changes and grow as an individual," Jackson says. "Many people have helped me along the way. Young people with aspirations should never stop believing in themselves. There are no limits."
Learn more about Construction Management and other programs by visiting the GameAbove College of Engineering and Technology website.
About Eastern Michigan University
Founded in 1849, Eastern is the second oldest public university in Michigan. It currently serves more than 16,000 students pursuing undergraduate, graduate, specialist, doctoral and certificate degrees in the arts, sciences and professions. In all, more than 300 majors, minors and concentrations are delivered through the University's Colleges of Arts and Sciences; Business; Education; Engineering and Technology; Health and Human Services; and, its graduate school. EMU is regularly recognized by national publications for its excellence, diversity, and commitment to applied education. For more information about Eastern Michigan University, visit the University's website.
About OCC
Offering nearly 100 degrees and certificates, OCC is Michigan's largest multi-campus community college and No. 1 transfer institution in the state. The College provides academic, career training and enriching experiences, designed to empower students to reach their potential and enhance our community. More than 1 million students have enrolled in the College since it opened in 1965. A seven- person Board of Trustees governs OCC. Board members are elected on a non-partisan, at-large basis, serve as volunteers and are not paid. Mission statement: OCC is committed to empowering our students to succeed and advancing our community. Learn more at oaklandcc.edu.
Media Contact: Marketing & Communications | 248.341.2020 | contactus@oaklandcc.edu