OCC's PTK Chapters Also Win an Impressive 30 Awards in Michigan Regional Competition and Five National Scholarships
Phi Theta Kappa (PTK), the primary honor society for two-year colleges, has elected Oakland Community College student Tala Alahmar of Rochester Hills as 2021 international president. Alahmar was elected to serve a one-year term during PTK's annual convention.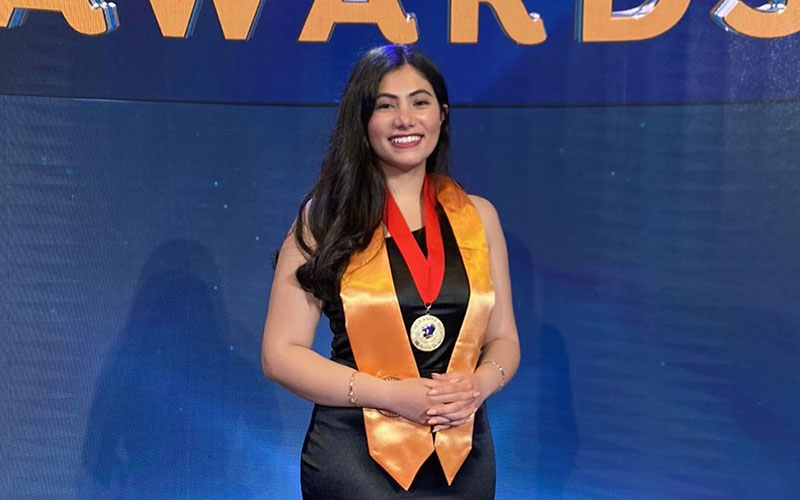 Tala Alahmar was elected 2021 international president for the PTK honor society.
Tala Alahmar was elected 2021 international president for the PTK honor society.
Her role as international president is the highest position of student leadership within PTK, which boasts more than 3.5 million members in the United States and 10 sovereign nations. She is the first person from Michigan to be elected in this position.
Alahmar's election was the pinnacle of a successful month for PTK student members and OCC chapters that won 30 awards at PTK's Michigan Regional Convention.
Andrew Muniz, associate dean of student services at the Royal Oak and Southfield campuses, proudly shared that the College's four PTK chapters had strong representation at the state level.
"OCC received 18 different awards. Some of those awards were given to multiple chapters, totaling 30 awards college wide. Our PTK members continue to demonstrate amazing tenacity, fortitude and commitment against the challenges of a pandemic and a remote environment," he said.
Becoming an international president
Originally from Syria, Alahmar has held numerous leadership positions while at OCC, including being a field organizer for the Michigan Democratic Party and president of the Michigan Region for PTK Honor Society. Her speech about evolving from an introvert to someone who proudly uses her voice to share the value of diversity, equity, and inclusion earned a spot as one of four national finalists in the 2020 PTK Virtual Speech Competition. She graduates from OCC this spring with an associate in Arts degree.
She said it is an extraordinary honor to represent her home chapter, OCC and Michigan on an international level.
"This success is not mine alone, it belongs to everyone at PTK and OCC who showed support, love and trust."
Jahquan Hawkins, OCC dean of student service- Auburn Hills campus said Alahmar's leadership exhibited in PTK as Michigan regional president will be a great asset to PTK in her new role.
"She's kept our local and regional members connected as a calming presence through an international crisis. There is no doubt that Tala will bring the same professionalism, energy and focus to her position as international president of PTK."
OCC PTK students earn national scholarships and state honors
Yuliia Lane has been selected as a 2021 PTK Guistwhite Scholar and will receive a $5,000 scholarship. Guistwhite Scholars are chosen based on academic achievement, leadership accomplishment and engagement in PTK programs. Lane, vice president of the Michigan Region of the PTK, is one of 15 Guistwhite recipients selected by a panel of independent judges from more than 4,400 applicants this year.
Alahmar and Lane are also part of an elite group of students across the nation as semifinalists for the highly competitive Cooke Undergraduate Transfer Scholarship. The two OCC students were chosen from a pool of over 1,500 applicants attending 398 community colleges across the country.
Theres Sajan has been selected as one of only 30 students to receive PTK's Fall Walgreens Pharmacy Technician Certification Scholarship which covers the cost of the certification exam fee.
Mark Haaseth, president of the Alpha Omicron Psi Chapter (Royal Oak and Southfield) of PTK was named Michigan region officer. He is one of three in the state to be named.
About OCC
Offering nearly 100 degrees and certificates, OCC is Michigan's largest multi-campus community college and No. 1 transfer institution in the state. The College provides academic, career training and enriching experiences, designed to empower students to reach their potential and enhance our community. More than 1 million students have enrolled in the College since it opened in 1965. A seven-person Board of Trustees governs OCC. Board members are elected on a non-partisan, at-large basis, serve as volunteers and are not paid. Mission statement: OCC is committed to empowering our students to succeed and advancing our community. Learn more at oaklandcc.edu.
###
Media Contact: Marketing & Communications | 248.341.2020 | contactus@oaklandcc.edu