The start of fall semester on college campuses also signals the beginning of college sports. OCC athletic teams are no exception.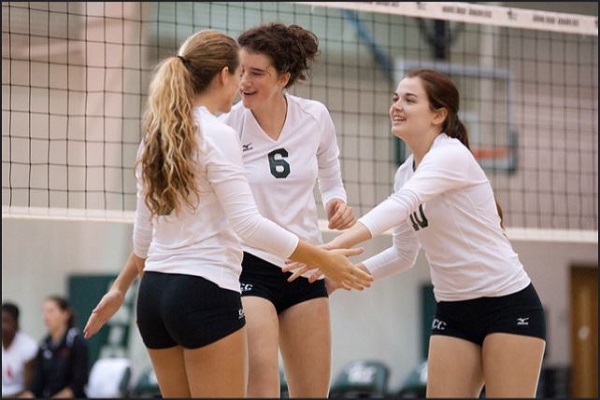 Women's volleyball is one of OCC's fall sports
OCC athletics, the "OCC Raiders," include a strong fall sports lineup including Women's Volleyball, Men's and Women's Cross Country and Men's Golf. These great teams compete in the Michigan Community College Athletic Association (MCCAA).
OCC student athletes
OCC Athletic Director Jamie Corona explains OCC student athletes are enrolled in and attend classes across the college, bringing hard work and an unwavering dedication, inside the classroom and on the field.
"Playing college sports teaches important skills like leadership, discipline, time management, how to work under pressure and how to effectively work with others toward a common goal," she said. "Our student athletes also have the potential to earn scholarship funds while earning a degree and also get exposure to continue their athletic and academic careers and transfer to a four-year university."
She adds that student athletes also have the opportunity to travel and participate in college level events all while meeting and making new friends. "The events are great and we love to see OCC students, employee and community cheering our athletes cheering on our teams."
Get to know our OCC Raiders: Fall Sports Roundup
Women's Volleyball – Tom Prychitko is in his first year as the head coach of the women's volleyball team after assisting for the volleyball team for the last seven years. Last year the team finished 10-2 in the MCCAA Eastern Conference, 26-7 overall, and they were the NJCAA Region XII Runner-up. This year the team is a completely new squad, with 10 freshman and one sophomore transfer.
"The team will take some time to get acclimated to college volleyball and each other but they have some talented players in sophomore outside hitter Emily Snay and setter Milley McCutcheon to lead the team," says Corona.
 Women's Cross Country – Returning All-American Amy Rowan will be one of the top runners in the region and country coming off a top 25 finish at the National Championship meet. Sophomore Mackenzie Montagano will challenge Rowan and the rest of the conference as one of the top runners in the MCCAA as well according to Corona.
"We had a strong performance from our returning sophomores, with Amy Rowan finishing an outstanding third place for the female Raiders during the first meet of the season at Northwood University," says Mark Skelcy, assistant coach for the OCC men's and women's cross-country teams. His son Shane is the head coach.
 Men's Cross Country – The men's team will lean on freshman Jaime Hernandez to lead the way as the team's top runner. Sophomores Mason Rosa and Zach Rockafellow will use their experience to help guide the team through their conference schedule.
"Our men's freshmen squad is coming along, with strong showings from Grant Hoffman and Jamie Hernandez," says Skelcy.  
 Golf – After taking a handful of years away from coaching, veteran OCC head coach Rick Coatta has returned to lead the team. The golf team features returning freshman of the year and MCCAA Eastern Conference golfer Michael Fenech. Last year Fenech qualified as an individual for the National Junior College Athletic Association golf tournament. He hopes to do the same this year with better results while also guiding his young golf team to a conference championship.
For further information visit Raiders Athletics.
About OCC 
Oakland Community College offers nearly 100 degrees and certificates programs with the resources students need to be successful and advance our community. As a top transfer institution, OCC offers one of the state's most affordable tuition rates and flexibility in scheduling with face-to-face and online options. The College is nationally recognized for its high-demand career training with expert faculty in their fields. More than 1 million students have enrolled in the College since it opened in 1965. Learn more at oaklandcc.edu.
###
 Media Contact: Marketing & Communications | 248.341.2020 | contactus@oaklandcc.edu