National award recognizes OCC's Respiratory Therapy program success in inspiring its graduates to achieve their highest educational and professional aspirations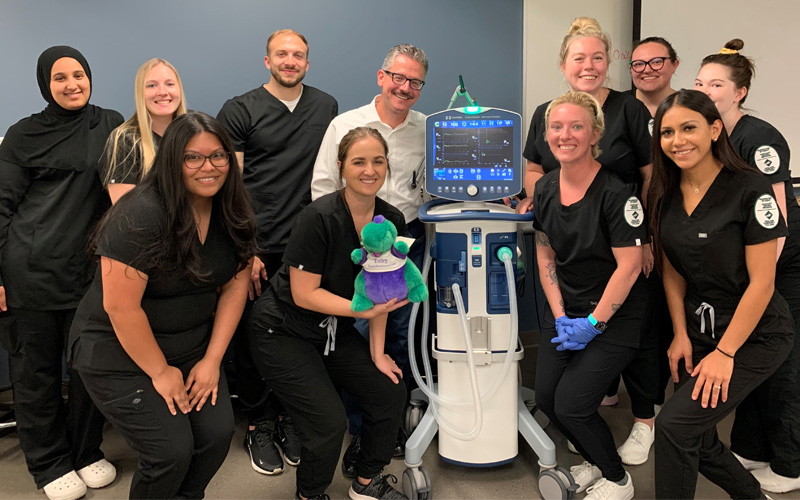 Chancellor Peter Provenzano congratulates students in the OCC Respiratory Therapy program.
Oakland Community College's (OCC) Respiratory Therapy program is among a select group recognized by the national Commission on Accreditation for Respiratory Care (CoARC) to receive the Distinguished RRT Credentialing Success Award. 
This award is presented as part of the CoARC's continued efforts to value the Registered Respiratory Therapist (RRT) credential as a standard of professional achievement. From a program effectiveness perspective, the CoARC views the RRT credential as a measure of a program's success in inspiring its graduates to achieve their highest educational and professional aspirations. 
OCC Chancellor Peter Provenzano said this award demonstrates the hard work and dedication that students in the program and staff display.
"This is the fourth year in a row that our program has been honored with this award. We are thrilled to receive perennial recognition of the continued success of our students, faculty and graduates in meeting the rigorous award criteria," he said.
Programs receiving the award were required to have three or more years of outcomes data, document RRT credentialing success of 90% or above and meet or exceed established CoARC thresholds for therapist multiple choice (TMC) high cut score and retention.    
Lauren Goldwater, director of Respiratory Therapy at Oakland Community College said this award reflects the commitment to excellence in respiratory care education.
"We appreciate that our graduates can help serve the exceptional need for respiratory therapy in providing high-quality patient care, dedication and support in our region's hospital systems. Respiratory therapists have been and will continue to be an essential part of the health care team."  
The Respiratory Therapy Program will be honored during the CoARC Awards ceremony, July 26 at the JW Marriott Palm Desert Resort & Spa in Palm Springs, California. 
For further information on the OCC program visit Respiratory Therapy Program.
### 
About OCC
Offering nearly 100 degrees and certificates, OCC is Michigan's largest multi-campus community college and one of the top transfer institutions in the state. The College provides academic, career training and enriching experiences, designed to empower students to reach their potential and enhance our community. More than 1 million students have enrolled in the College since it opened in 1965. A seven-person Board of Trustees governs OCC. Board members are elected on a non-partisan, at-large basis, serve as volunteers and are not paid. Mission statement: OCC is committed to empowering our students to succeed and advancing our community. Learn more at oaklandcc.edu.  
  
Media Contact: Marketing & Communications | 248.341.2020 | contactus@oaklandcc.edu