More than 81,000 square feet of new and renovated space features high-tech labs, flexible classrooms and collaborative spaces
Understanding more about how things work, testing theories and assumptions, and solving problems with an open mind are the hallmarks of a great scientist. These marks are also the key to future success.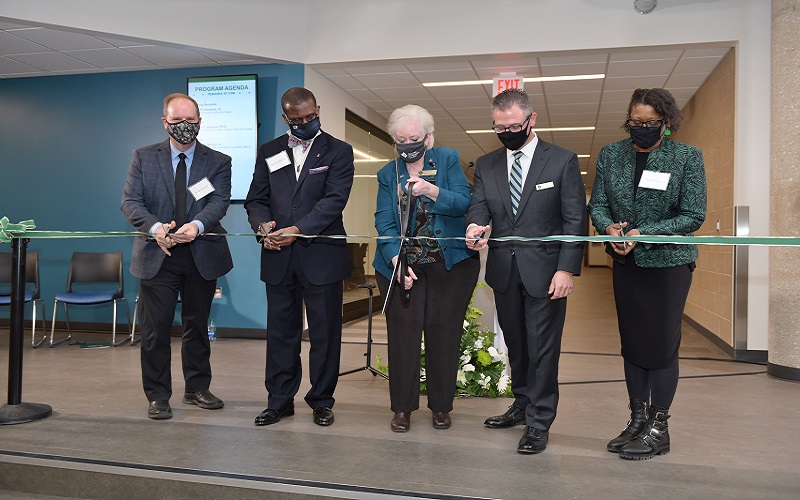 Ribbon-cutting participants included (L to R) Douglas Maibach; Quentin Messer, Jr.; Pamela Jackson; Peter Provenzano, Jr.; and Leah Aggison.
With state-of-the-art science and computer science labs, modern, flexible classrooms and collaborative spaces for students, opportunities abound in Oakland Community College's new Science and Computer Science building on the college's Auburn Hills campus. The new building consists of 54,000 newly added square footage and 27,000 renovated square footage complete with 15 classrooms, 8 high-tech science and computer labs and 17 collaborative/study spaces for OCC students.

"This new building provides students with an opportunity to develop advanced level, hands-on, critical thinking skills in science and computer technology," said OCC Chancellor Peter Provenzano, Jr. "These skills provides tremendous opportunities for students looking to transition quickly into an in-demand career or plan to transfer and obtain an advanced degree."

Provenzano stated the new building and renovation is the first in a series of changes the community will see as the college builds for the future. It is the first new building constructed on OCC's campuses since 2010 and serves as an exciting new milestone for the community.
The ribbon-cutting event featured remarks by OCC Chancellor Peter Provenzano, Jr.; OCC Board of Trustees Chair Pamela Jackson; keynote speaker Quentin Messer, Jr., CEO, Michigan Economic Development Corporation; Douglas Maibach, Chairman, Barton Malow Enterprises; and Leah Aggison, OCC's Associate Dean of Math and Science.
During his keynote speech, Messer spoke to the pillars this new building represented: excellence empowered, perspective, teamwork and hope. He also spoke excitedly about the contributions that OCC students will make in the future to keep Michigan at the forefront of invention.
"I can't wait to see what the graduates of this institution will produce," Messer added.
All remarks by the speakers can be viewed here beginning at the 18:30 mark.
The building unofficially opened at the start of the Fall 2021 semester as students returned to in-person learning and great demand for space on campus. It officially opened on Dec. 2 at a ribbon-cutting ceremony celebrating its completion.

OCC broke ground for the new building in December, 2019 and took more than 141,000 hours to complete. The project team included:

-Barton Malow-General Contractor
-Integrated Design Solutions-Architecture
-Anderson, Eckstein & Westrick-Civil Engineer
-Desai/Nasr Consulting Engineers-Structural Engineer
-Grissim Metz Andriese Associates-Landscape Architects

"The importance of Science and Technology and the importance of being up-to-date and current is what prioritized this building," said Jennifer Berne, OCC Provost. "This is a centerpiece of our Auburn Hills campus and we want to make sure that students feel that way."

For more information on the building, visit https://www.oaklandcc.edu/science-technology-building/default.aspx.

###

About OCC

Offering nearly 100 degrees and certificates, OCC is Michigan's largest multi-campus community college and No. 1 transfer institution in the state. The College provides academic, career training and enriching experiences, designed to empower students to reach their potential and enhance our community. More than 1 million students have enrolled in the College since it opened in 1965. A seven-person Board of Trustees governs OCC. Board members are elected on a non-partisan, at-large basis, serve as volunteers and are not paid. Mission statement: OCC is committed to empowering our students to succeed and advancing our community. Learn more at oaklandcc.edu.
Media Contact: Marketing & Communications | 248.341.2020 | contactus@oaklandcc.edu