OCC faculty member Robert Featherstone not only met but exceeded the stringent requirements to become one of only three Michigan Certified Master Heating, Ventilation, Air Conditioning and Refrigeration (HVACR) Educators. Instructors who earn the title have proven they have expert knowledge to prepare students for success in this hot industry.
Featherstone passed the required exams and completed not one, but all three (gas heat, oil heat, or heat pumps) national exams. That added up to nearly 900 questions on the closed-book, online examinations administered by a proctor.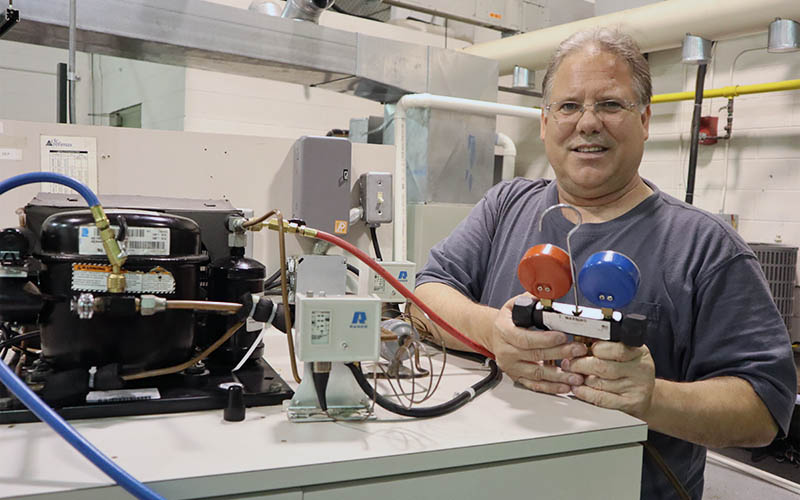 OCC faculty member Robert Featherstone is a Certified Master HVACR Educator.
To be recognized by Esco Institute as a Certified Master HVACR Educator, instructors must pass seven Certified Subject Matter Educator exams with a score of 80% or higher. The exams are teaching methodologies principles and practices; electrical; air conditioning; light commercial air conditioning; light commercial refrigeration; electric heat; and one exam in either gas heat, oil heat, or heat pumps.
"After every test, I felt exhausted," Featherstone shared humbly. "It took a lot of thought. Through my teaching and years of experience, I made it."
His hard work is widely recognized by his students. One of them is OCC student John Fielder, who is looking to start a new career after receiving a bachelor's degree in Human Resources from Hope College. He said Featherstone is constantly looking for new and updated certifications as well as better ways to teach the course and keep it current.
"He pushes us to do everything so when we leave OCC we're not just leaving with a degree but are industry certified," he said. "He really works hard to make sure students get it. You aren't going to fail if you try. Rob will help you get through it."
Achieving Certified Master HVACR Educator is part of Featherstone's goal to get OCC's HVACR program nationally accredited, making it one of only two community colleges in Michigan to reach this accreditation.
Before joining OCC as a paraprofessional in HVACR Technology, Featherstone worked for private companies doing service work and installation. He advanced from his paraprofessional position and began teaching as an adjunct instructor at the College's HVACR Technology and working full time at Oakland Schools southeast campus to start up their HVACR department. In 2007, Featherstone became full-time faculty at the College.
Featherstone is also an OCC alum with an associate degree in HVAC Technology. He also holds a bachelor's degree in Applied Science from Siena Heights.
"I love working with our students and helping them get jobs," he said. "Everyone is very appreciative. It's a gratifying career."
###
About OCC
Offering nearly 100 degrees and certificates, OCC is Michigan's largest multi-campus community college and one of the top transfer institutions in the state. The College provides academic, career training and enriching experiences, designed to empower students to reach their potential and enhance our community. More than 1 million students have enrolled in the College since it opened in 1965. A seven-person Board of Trustees governs OCC. Board members are elected on a non-partisan, at-large basis, serve as volunteers and are not paid. Mission statement: OCC is committed to empowering our students to succeed and advancing our community. Learn more at oaklandcc.edu.

Media Contact: Marketing & Communications | 248.341.2020 | contactus@oaklandcc.edu