OCC campuses are amongst the safest in Michigan, and the recently released Clery Annual Security Report 2020 echo's OCC's continued commitment to safety for our students, employees and community. One critical piece to continue this safe-campus success is our College community's commitment to staying informed and involved in the safety process, online and on campus.
"Student and employee safety is our priority. That's why we have sworn police officers from OCC's Department of Public Safety patrolling our five campuses. But safety for students, employees and our community needs the support of the entire OCC community," said Paul Matynka, OCC's Chief of Public Safety. "Safety is everyone's responsibility. If someone has a concern, we want to know about it."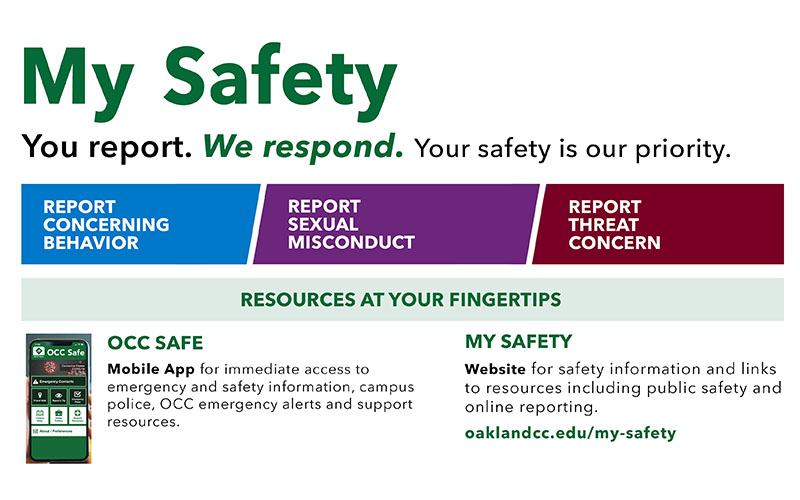 To help, Matynka announced OCC's new "My Safety" web page and corresponding OCC Safe app to provide students and employees with greater access to emergency and safety information. The web page provides information and direct links to all things safety related, allowing students and employees to report safety-related concerns, including:
Concerning Behavior or Misconduct
A behavioral assessment program (BART) led by a trained team of professionals across the College who review reported concerns involving inappropriate actions of students, potential students or college visitors.
Sexual Misconduct (Title IX)
A comprehensive program designed to protect members of the College community from sexual misconduct, including sexual harassment, sexual assault, domestic violence, stalking and dating violence.

Contact Information
OCC encourages individuals to report actual or potential incidents concerning behavior or misconduct as well as actual or potential threats of violence using the following phone numbers or email:
Emergency Police/Fire: Call 911
OCC Public Safety | General Office Hours: 7 a.m. to 11 p.m. Office hours may vary.
Non-emergencies using a college phone: call ext. 5555
Off-campus: 248.858.4911Dispatch
Confidential Reporting: 248.232.4660
RESOURCE: OCC Safe Mobile App
The free app, which is available for Apple and Android operating systems, provides:
Campus emergency alerts
Emergency response plans in the event of a campus fire, severe weather, or other on-campus emergency
The ability to share your location in real time with a friend or family member as you walk to and from your vehicle or other campus locations
The ability to share your location in real time with a friend or family member in the event of a campus emergency
Support resources for suicide intervention, mental health and substance abuse concerns, and sexual misconduct issues
Campus maps, fire rally points and tornado shelters
Your safety is our priority. As a college community, each of us is responsible for upholding the core values of respect and responsibility. With the My Safety webpage and OCC Safe app, the vital information you need to keep our campuses among the safest in Michigan is now just a click away.
About OCC
Offering nearly 100 degrees and certificates, OCC is Michigan's largest multi-campus community college and No. 1 transfer institution in the state. The College provides academic, career training and enriching experiences, designed to empower students to reach their potential and enhance our community. More than 1 million students have enrolled in the College since it opened in 1965. A seven-person Board of Trustees governs OCC. Board members are elected on a non-partisan, at-large basis, serve as volunteers and are not paid. Mission statement: OCC is committed to empowering our students to succeed and advancing our community. Learn more at oaklandcc.edu.
###
Media Contact: Marketing & Communications | 248.341.2020 | contactus@oaklandcc.edu