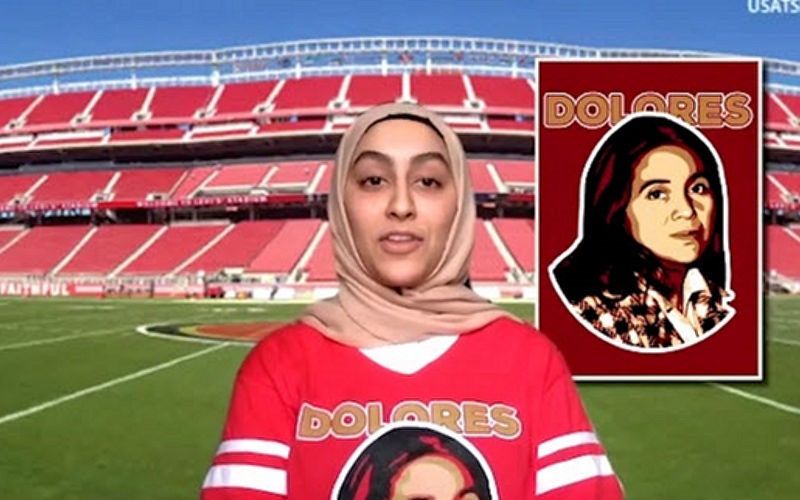 The NFL Draft is one of the most popular events to watch each year, but this year it took on a different meaning for OCC student Sana Ishaqsei, her team members and coach. Ishaqsei was one of 32 students from colleges and universities across the country selected to participate in the inaugural NFL360 Women's Empowerment Draft.
The online city-by-city draft aired during the recent NFL Football Draft. The event honored 32 iconic women pioneers who contributed to the women's rights movement, one for each NFL team, celebrating the centennial of America's 19th Amendment, which granted women the right to vote. OCC Forensic team coach Carole Bennett, and Communications faculty member, nominated Ishaqsei for the National Women's Empowerment Draft narration competition, leading to national event organizers picking up this local early college student for the seminal sports event. Ishaqsei announced the 31st pick, Dolores Clara Fernández Huerta, on behalf of the San Francisco 49ers.
Huerta is an American labor leader and civil rights activist who co-founded the National Farmworkers Association, which later became the United Farm Workers, with Cesar Chavez. Ishaqsei wore an NFL-style jersey featuring a portrait of Huerta as she described Huerta's life and contributions.

"I am very impressed with how Sana represented OCC. She performed well during the audition process, and appears in both the long and short versions of the Women's Empowerment Draft," said Bennett.
Ishaqsei appears at approximately the 17 second mark of the short video and 20:58 of the full video. She is a member of the OCC Forensic Team, and part of the Oakland Early College (OEC) program. OEC blends high school and college into a multi-year program combining high school graduation with an OCC associate degree in grade 13.
"It was such a cool opportunity to participate in the Women's Empowerment Draft, and I appreciate being nominated by Ms. Bennett," said Ishaqsei.
The Women's Empowerment Draft is a collaboration between the NFL Network and a group of Alfred University students dubbed Art Force 5 (AF5) , who use art to inspire discussion on topics of equality and social justice.
About OCC
Offering nearly 100 degrees and certificates, OCC is Michigan's largest multi-campus community college and No. 1 transfer institution in the state. The College provides academic, career training and enriching experiences, designed to empower students to reach their potential and enhance our community. More than 1 million students have enrolled in the College since it opened in 1965. A seven-person Board of Trustees governs OCC. Board members are elected on a non-partisan, at-large basis, serve as volunteers and are not paid. Mission statement: OCC is committed to empowering our students to succeed and advancing our community. Learn more at oaklandcc.edu.
###
Media Contact: OCC Marketing & Communications | 248.341.2020 | contactus@oaklandcc.edu